King Lear
published: Fri, 6-Feb-2004 | updated: Wed, 4-Jan-2017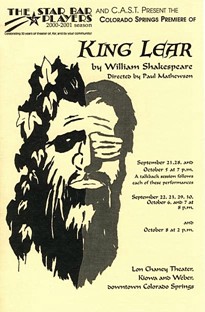 The Earl of Gloucester in King Lear by William Shakespeare for Star Bar Players at The Lon Chaney Theater. Directed by Paul Mathewson. September 2000.
King Lear. One of the utter greats of the Shakespeare canon. And what a role: the Earl of Gloucester. Yep, the one who gets his eyes gouged out. Magic. Sheer magic.
The genesis of this particular production was that Paul Mathewson wanted to play Lear before he died and was willing to subsidize the costs for it. Paul wasn't that old (maybe 10 years older than me) and was a great character actor, with all the emphasis on "character", so I'm guessing that he knew or was worried about something that no one else knew.
I think a quick aside on Paul is on order. He was one of those people whom you either liked or hated with a passion and it was all the same to him. A veteran of Vietnam, he'd had his left leg amputated below the knee due to some incident in that war (I never knew the particulars) and used that in some of the roles he played (in Macbeth for example, he wore one prothesis with a foot as Duncan, and then swapped it for a peg leg at the Porter). He was a very good actor indeed, provided you could keep him on the straight and narrow, and with Paul that could be ... difficult. Certainly, he was a genial man whom I liked a lot, although he could get under my skin sometimes. He also used, shall we say, colorful language and always had a story to tell, or a completely filthy joke to impart, that would enhance any conversation or situation. Although this sounds like a cliché, he did not suffer fools gladly at all and would use his language to great effect on them.
I've acted with him in several productions: Three Sisters, Macbeth, What the Butler Saw, as well as this King Lear. For all of them he gave a completely energetic performance and, by it, encouraged me to give more with more energy.
He fell ill last year (2005) having just played Long John Silver in Theatreworks' production of Treasure Island, and died shortly afterwards. I miss not being able to bump into him at auditions or in a show, and I miss not being able to see him act again.
Anyway, back to Lear. An uneven production, I think. There were some very good actors and some not quite as good, some good moments and some a little over the top, shall we say.
For me, playing Gloucester was a little intimidating. There was the entire affair of the eye-gouging for a kick-off. We played it rough. I was pushed into a chair with my back to the audience, held there, and then Cornwall would stand over me, facing them, and snarl and gouge. A couple of blood packs later and I was blinded and fell to the floor. Easy-peasy, one scream at the start to send shivers up and down the audience's collective backs, and that was pretty much it. During rehearsals, Craig, the guy playing Cornwall, didn't touch my eyes at all, but due to the angle and the way he was flexing his arms and so on, it looked horrifically real. Then one weekend he couldn't do it (a wedding he had to go to, or something like that) and someone else took his place. I don't remember who, but he didn't get the point that it was acting, that is was make-believe. Ow, ow, ow. He must have given me black eyes that weekend.
Another problem with being Gloucester was that, after being blinded, I wore a blindfold for my subsequent scenes. Visibility was, shall we say, extremely limited. If I was careful about how I placed the blindfold, I could just about see down the side of my nose to the floor. I was thus extremely dependent on my fellow actors to lead me and place me in the correct position. One false move and I would have fallen off the front of the stage. Less worse perhaps was being able to get off the stage through the curtains at the back without looking like a complete idiot and causing gales of laughter as I stumbled about.
Unfortunately, for one of the performances Rod had too much to drink beforehand. So the scene between us, where Gloucester is blind and meets up with his son and doesn't realize who it is, was completely marred for me by his semi-drunken behavior. He would do things to me that we'd never done before, and by the end of the scene I was completely disoriented. I did not know which way was upstage (to safety) and which was downstage (to a certain fall). My look-down-the-side-of-my-nose trick wasn't working: all I could see was the stage floor with no indication of which way was which. I can't remember what I did, but it probably involved bringing my hands up to my face in character (in despair?) and quickly peeking. It was a nightmare. (It got worse: Rod was pretty incapable of performing the final sword fight between him and the villainous Edmund at the end and Mark had the hardest time trying not to get slashed.) Needless to say, I will never work with Rod again.
Other than him, I enjoyed acting with the people in the production. As I said before, some were new and raw at acting, and some I'd acted with before, but overall I liked the production. Ignoring, if I can, the performances of the main parts, I'd just like to say Tara was excellent as the Fool, a pretty hard part, but she carried it off beautifully. (Oh, and yes, I played yet another Shakespeare dad.)
Cast
| | |
| --- | --- |
| Lear, King of Britain | Paul Mathewson |
| King of France | Stephan Edwards |
| Duke of Burgundy | Ben Rosenberg |
| Duke of Cornwall | Craig Richardson |
| Duke of Albany | David E. Mason |
| Earl of Kent | John Barber |
| Earl of Gloucester | Julian Bucknall |
| Edgar, son to Gloucester | Rod Garrison |
| Edmund, bastard son to Gloucester | Mark Hennessy |
| Curan, a courtier | Tobias Severn |
| Doctor/Tenant | Sarah Fortune |
| Fool | Tara Nelson |
| Oswald, steward to Goneril | Jonathon Simpson |
| Lead Knight | Adam Burns |
| Gentleman | Eric Dahlgren |
| Herald | Joshua Kellison |
| Servant to Cornwall | Kraig Pleuyak |
| Goneril | Amy Brooks |
| Regan | Stephanie Brunson |
| Cordelia | Polly Cambron |
| Daughters to Regan | Ryan and Cassidy Brunson |
| Knight/Trumpeter | Ryan Booker |
Review from the Colorado Springs Independent
Fit for a King

Star Bar Players raise the bar with a kingly Lear
by Owen Perkins

SEPTEMBER 28, 2000:

There hadn't been a tremendous amount of hype preceding the opening of Star Bar's ambitious production of King Lear. Perhaps the producers wanted to hedge their bets. But whatever expectations could have been thrown around by pre-production publicity, this excellent cast would have risen to meet the demands of eager audiences.

It isn't often that so many things go so overwhelmingly right for a production. To say that the stars were in alignment for this venture downplays the hard work from director Paul Mathewson and a tremendous cast, all at the top of their game. Mathewson elicits stellar performances by the fistful, rarely letting a moment play on stage that is not marked by first-rate acting and sustained intensity.

The production remains focused on the acting, using an extended stage to contain the action without attempting to fill the space with elaborate sets. There are only a handful of set pieces -- a throne in one scene, a table and chairs in another, stocks later on. The pieces are consistently rough, the raw grain of the wood left untouched. Certain pieces are stained, however, and something seems wrong when the stocks are better looking than the King's throne. Despite the consistency of the rough pieces, they don't seem to fit any stylistic vision, and the ornate costumes belie the primitive set construction.

What is not negotiable on stage at the Lon Cheney Theater is the quality of performances from a 23-person cast. King Lear is often seen as a vehicle for Lear. Mathewson is dynamic and commanding in the role, raining a storm of regret and heartbreak throughout the play, seizing the stage whenever he is on it, but leaving room for the rest of the cast to have their moments to shine.

The strength of the company is what elevates this production beyond a typical presentation of Lear, and beyond anything I've seen from Star Bar Players in the last year and a half. Virtuoso performances keep the audience enraptured as the tale unfolds with power and clarity. John Barber is an excellent Kent, grounding the characters as they tread into a dangerous no man's land of madness and fantasy. Julian Bucknall is equally strong as Gloucester, and his gruesome blinding and vulnerability provide some of the play's most powerful moments. Rod Garrison has never been better in his interpretation of Edgar, turning in a stunningly versatile performance head and shoulders above any of his recent work. His turn as Poor Tom, haunted by the foul fiend, gives the play its deepest emotional texture.

Mark Hennessy clearly relishes the chance to play the juicy role of the villain Edmund, and he captivates the audience with his insight into the web of intrigue he spins. Craig Richardson is a delightfully creepy Cornwall, filling his performance with spooky stares and eerie expressions, giving depth to an otherwise underapreciated elegy to evil. Amy Brooks as Goneril and Stephanie Brunson as Regan also elevate the roles of Lear's daughters, turning lesser roles into the kind of parts any actress would kill to play.

If you have any worries about comprehending the fast moving plot, it may be worth taking the time to familiarize yourself with the story before attending. Mathewson refuses to dumb down any aspect of the production, and this standard bearer of excellence is not to be missed.
(c) copyright Colorado Springs Independent 2000
Review from the Gazette
Essence of 'King Lear' comes through clearly

Mark Arnest; The Gazette

"King Lear" is one of Shakespeare's biggest and most complex plays, demanding a large and skillful cast and the technical means to stage a storm and several sword fights. For a modest community theater to tackle it is - like Lear himself - mad.

But madness can be riveting, and the essence of Shakespeare's masterpiece comes through clearly in the Star Bar Players' production of "King Lear."

Directed by and starring Paul Mathewson, the convoluted plot is easy to follow, and the vivid characters and ravishingly beautiful language add up to a memorable evening of theater.

However, the widely differing levels of skill and experience in this cast make it difficult to get swept away.

The keyword to "Lear" is deception. There's a whole lot of lying going on. The honest characters deceive because they must, while the evil ones - and ultimately "Lear" may contain more bad apples than any other Shakespeare play - do because they discover that they enjoy it.

In addition, there may be no other Shakespeare play in which so many characters change so much. So we're not always certain whether a character is deceiving us or may simply have changed - or may have changed and still be deceiving us.

This gives "Lear" an intense, unreal quality. No scene in Shakespeare seems like as much of a freak show as the storm at its center, during which the Earl of Kent is posing as someone else in order to serve Lear, Gloucester's son Edgar is posing as a madman, Lear is going mad, and the Fool is, well, a fool.

Co-directors Mathewson and Mark Hennessy let the characters' richness develop naturally. No characters become villains or heros before their time.

The center of "King Lear" is, of course, Lear, and Mathewson gives one of his finest performances, believable as the bullying parent of the opening scene, the broken-hearted madman of the middle, and the strangely peaceful tragic hero of the ending. Hennessy also turns in a vivid performance as Edmund, Gloucester's bastard son. It's a big role but psychologically one of the simpler ones, because Edmund is rotten from the outset.

The rest of "Lear's" villains only gradually spread their wings. At first, daughters Goneril and Regan are sincerely concerned about their father's arbitrary and unjust treatment of their sister Cordelia; their own developing cruelty is all the more believable because it seems so much like their dad. (Amy Brooks' Goneril is especially convincing.) The Duke of Cornwall, played by Craig Richardson with authority and presence - if a bit too much eyebrow-raising, transforms from a cipher into a monster capable of ripping out Gloucester's eyes, still one of the most gut-wrenching scenes in Shakespeare.

Opposing them, though not soon enough, are John Barber's stalwart Kent; the Duke of Albany, who grows before our eyes in David Mason's expansive performance; Gloucester, movingly portrayed by Julian Bucknall; and Rod Garrison's Edgar, who convincingly changes from a boob into a leader.

In addition to its length (about three hours in this production), "King Lear" is one of Shakespeare's darkest and most sexually charged plays.
(c) The Gazette 2000