Three Sisters
published: Fri, 6-Feb-2004 | updated: Wed, 4-Jan-2017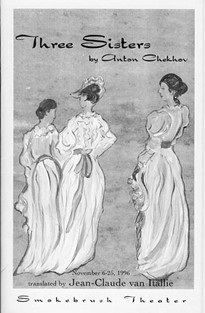 Kulygin in Three Sisters by Anton Chekhov for Smokebrush. Directed by Mark Ramont. November 1996.
My first Chekhov and an interesting production. Ziggy, the Artistic Director for Smokebrush (and also playing Vershinin), had chosen this director from Vermont to come in and direct the show. Unfortunately, he didn't really hit it off with any of the actors (he became known as Ramont from Vermont). He just seemed distant, never seemed to connect, and his direction wasn't specific but always general.
I played Kulygin, the cuckold and teacher, married to Masha who was having an affair with Vershinin. Masha was played by LeAnne Lyman, with whom I'd acted in several productions, to the extent where she calls herself my other wife, since she's played them so often.
This production is also famous for me forgetting a prop. Right at the end of the play, Vershinin has gone, abandoning the three sisters to their dull lives in the country. Masha goes back to her no-longer-quite-so-oblivious husband. To cheer them up, old Kulygin, me, tells a little joke about how he confiscated a mask from one of his pupils and puts it on and makes the sisters laugh. Brilliant. All the way through the run, no problem. Until the last performance.
I walk out on stage at the very end and the very moment I'm visible, this shock of sheer terror sluices through my veins. The mask! I don't have it. I quickly consider slipped back off and running to the dressing room and back: the sisters have a few lines of dialogue where I watch them. But no, I can't even remember where it is exactly and the dressing room is on the floor above. Not enough time. I'm going to have to brazen it out. I try to quickly think of some extra lines I can say. When the moment comes when I should have whipped out the mask, I say something lame like "if I had the mask with me you could see how silly it looks." Luckily the sisters three realize and laugh as never before and I'm saved.
All in all, I wasn't really happy with the production. Nothing concrete; it just wasn't a really happy show for me. I did enjoy acting with a whole bunch of friends and great actors, though. The three sisters in particular were quite, quite wonderful.
Cast
| | |
| --- | --- |
| Olga | Barbara Summerville |
| Irina | Samantha Anderson |
| Masha | Leanne Lymon |
| Maid | Susan Plummer |
| Chebutykin | Paul Mathewson |
| Tuzenbach | Michael Morgan |
| Solyony | Dustin Shapard |
| Anfisa | Paulina Pana Chichester |
| Ferapont | Gordon Hinds |
| Vershinin | Gregory Wagrowski |
| Andrei | Scott Allegrucci |
| Kulygin | Julian Bucknall |
| Natalya | Theresa M. D. Reid |
| Rode | John Zuniga |
| Fedotik | Ricardo Vila-Roger |
Review from the Gazette Telegraph
'Three Sisters' lacks intensity

Mark Arnest

"A writer is not a confectioner, a cosmetic dealer or an entertainer. He is a man who has signed a contract with his conscience and his sense of duty," wrote Anton Chekhov.

These are the words of a serious guy, and his "Three Sisters" - currently receiving a solid (though too-reverent) production by the Smokebrush Center for Arts & Theater - is a serious play, subtle, rich, and supremely honest.

The Prozorovs - Olga, Masha, Irina, and Andrei - are the most cultured inhabitants of a provincial Russian town. As the play begins, the sisters bemoan the stifling boredom of provincial life. They long to move to Moscow, regarded as a sort of Oz, where everything would be wonderful. (Chekhov is being partially ironic: The play was commissioned by a Moscow theater, where the audience would have had no such illusions.)

Five years pass during the course of the play, during which disillusionment - and life - set in. Andrei marries the shy, demure Natalya, and watches her transformation into a shrill, overbearing harpy. Olga becomes the headmistress at the local school, a position she doesn't want. Masha has an affair with an older, married man, Vershinin. Irina agrees to marry Tuzenbach, though she doesn't love him.

In few plays is the mood so unrelenting while the playwright's personality is so invisible. In contrast to Dostoevski and Tolstoy (the latter Chekhov's idol), whose characters illustrate certain philosophical attitudes on which the authors ultimately pass judgment, Chekhov merely presents characters and watches them interact. This is risky - except that the people Chekhov created are so unfailingly vivid and lifelike, we can't help but get involved with them. Even relatively minor roles - such as Solyony, who, almost as a personification of malevolent fate, enters and exits randomly, causing trouble every time - are carefully drawn.

But to some extent, Chekhov is a victim of his own success: some passages are almost a parody of "serious" theater, as characters laugh when they want to cry and dialogues are created by splicing together two monologues. Now and then you have to remind yourself that Chekhov did it first.

Chekhov began his career as a playwright by writing farces and always asked that his plays be directed as comedies. I don't know how comedies were produced in the 1890s, but it couldn't have been as stately as the approach taken here by Mark Ramont. It slows an already-long play and saps it of much of its emotion.

For this reason, the Smokebrush's all-star cast doesn't achieve the effect it could. The discovery here is Samantha Anderson, a Manitou High School student who does a fine job as Irina. And the director hasn't been born who can prevent LeAnne Lyman from projecting emotion onstage; Masha comes off as the play's most complete character. Theresea Reid is also terrific as Natalya, and Scott Allegrucci is on track for an excellent interpretation of Andrei, but appeared a bit too fidgety. You could see him "acting."

But much of the cast is uncharacteristically muted, including some of the Springs' best talent, including Barbara Summerville, Paul Mathewson, Michael Morgan and Ziggy Wagrowski.

The designed-by-committee set is sparse, and some of it - such as some translucent hanging things that impair the audience's view of the table in act one - is inexplicable. Much more of the atmosphere comes from Lindsay Ray's fabulous period costumes and from the score - mostly Tchaikovsky and Scriabin, stylishly and expressively performed by violinist Yevgueni Goundrizer, pianist Valentina Kokhanovskaya, and accordionist/music director Bob Tudor.
(c) Gazette Telegraph 1996