The Crucible
published: Fri, 6-Feb-2004 | updated: Wed, 4-Jan-2017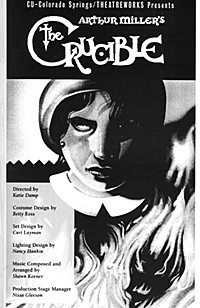 The Reverend Samuel Parris in The Crucible by Arthur Miller for Theatreworks at the Dwire Theater. Directed by Katie Damp. October 1997.
One of my most favorite Miller plays. No matter where I see it and by whom, it never fails to move me. So being a part of a production of it and having such a great part was like a dream come true.
(Aside: in writing up this summary, I did some research at the Dulwich Players website because I thought I'd helped in their production of The Crucible as assistant stage manager or something. To my utter amazement, I found that I was actually in it, playing Ezekiel Cheever. I honestly cannot remember this at all.)
And it was a very good production. Katie, the director, did a fine job, keeping us all in place and the action flowing. It was an excellent cast; the girls were a hoot. I also loved the fact that we did it in the round: for such a play as this, having the audience that close gives the whole performance an extra edge, a harder bite. From the initial girls dancing scene where Parris discovers them, to the final jail scene where Proctor is finally led off to be hanged, it was emotion all the way.
Playing Parris was somewhat difficult. We're always told as an actor that, no matter what part we play, we have to find something we like about the character. We have to empathize with the role, to understand it, otherwise our portrayal will come across as false or unbelievable. In that sense, Parris was hard for me: finding something I liked about the man, when he's ready to believe the worst of people based on the flimsiest of evidence. I am not religious by any means — in fact, I'm an atheist — so that strikes out that aspect of Parris. Instead I focused on Parris' love for his daughter, Betty, and made that part of him override everything else, even though it meant that he was blinkered enough to send others to the gallows. It also meant that it was much easier at the end of the play to show Parris realizing the horror of what had happened and how his involvement had initiated and propelled it.
I really enjoyed doing the initial "dancing for the devil" scene. There was a bed in the middle of the stage, wild lights, the girls gyrating and dancing around the bed with Betty on it, and then out of the darkness steps Parris, initially as a voyeur almost, then moving into the light until the girls see him and run off screaming. Betty lies down, I turn towards her and the lights change and we're in the next scene. Marvelous.
All in all, just brilliant. It remains one of my favorite roles, one that I had great satisfaction in playing.
Cast
| | |
| --- | --- |
| Betty Parris | Shaundra Noll |
| Reverend Samuel Parris | Julian Bucknall |
| Tituba | Ovetta Sampson |
| Abigail Williams | Amber Richman |
| Susanna Wallcott | Stashia Rivera |
| Mrs. Ann Putnam | Sherri Bristol |
| Thomas Putnam | Ron Cartellone |
| Mercy Lewis | Xanthe Cook |
| Mary Warren | Lauren Ayres |
| John Proctor | Will Hare |
| Rebecca Nurse | Bonnie Ross |
| Giles Corey | Richard Harris |
| Reverend John Hale | John Horn |
| Elizabeth Proctor | Susannah Weaver |
| Ezekiel Cheever | Chip MacEnulty |
| John Willard | Buck Buchanan |
| Judge Hathorne | Brian Preston |
| Deputy-Governor Danforth | Tom Paradise |
| Sarah Good | Heidi Cooper |
| Hopkins, the Jailor | Patrick Walsh |
| Herrick, the Jailor | James Childress |
| Daniel, the Jailor | Dan Schock |
| Ruth Putnam | Michelle Thomas |
Review from The Gazette
Local theater reaches fever pitch in fiery production of 'The Crucible'

By Mark Arnest

Don't miss "The Crucible."

CU-Colorado Springs' Theatreworks gives Arthur Miller's powerful, remorseless parable of mass hysteria an emotional, beautifully paced production. And Miller's play remains as relevant and as psychologically true as it was when he wrote it in the early 1950s. Our demons take new forms, Miller says, but they are always with us.

This tale of the Salem witch trials begins in a misty forest with girls dancing in the moonlight to pounding drums. This is the last time you'll see anybody having any fun here. Discovered by Reverend Parris, the girls panic, and from there on, it's a descent into madness, as vengeance strives with paranoia and greed in a world turned upside down.

No one's going to call "The Crucible" upbeat, but it has its inspirational side, celebrating human strength at the same time it damns human weakness. If it sounds many warnings, it also praises moral strength in the face of injustice.

This keen social sense might seem heavy-handed if Miller's dramatic sense weren't also so keen. Few plays contain so many interesting characters, and this strong cast brings them wonderfully to life.

Katie Damp's direction stresses forward momentum (this 170-minute production seems to go by in a flash) and conveys a sense of panic; there's more talking than listening here, as characters continually interrupt one another. Everyone wants to be heard.

The storm centers around John Proctor, whose past affair with Abigail Williams gradually draws him into events beyond anyone's control. Will Hare builds Proctor slowly; we hardly notice how an ordinary man becomes an extraordinary one.

As his inflexible wife, Elizabeth Proctor, Susannah Weaver walks a tightrope, cold enough to make her husband's anguish believable, but vulnerable enough for us to understand her feelings.

Amber Richman starts slowly but finishes strongly as Abigail Williams, the bitter, vengeful young woman who first says she and the other girls were doing nothing but soon realizes she gets better results by claiming she danced with the devil.

The drama of these three is intensely personal, centering as it does on Proctor's infidelity. But for the others, it's a struggle between good and evil, focusing on witchcraft. John Horn gives a quietly intense performance as the humorless John Hale, the first one to sound the witchcraft alarm. Horn convincingly makes the transition from stern self-confidence to total awareness of the horror he helped start. Tom Paradise is the epitome of authority gone wrong as Deputy Governor Danforth. The accusations of witchcraft can't be petty vengeance, he explains, because a great effect must have a great cause. Later, he explains why he can't pardon the last seven of the condemned even though new evidence suggests that they're innocent: "I cannot pardon these when 12 have already hanged for the same crime."

Julian Bucknall gives perhaps the play's subtlest performance as the self-serving Reverend Samuel Parris, a man too small for his position. Lauren Ayres is excellent as the anguished Mary Warren, the girl who tries to recant but simply isn't strong enough.

A rustic, appropriately dour score by Shawn Keener, coupled with Betty Ross' austere period costumes, intensify the dark, foreboding atmosphere. The setting in the round is problematic; no matter where you sit, you miss a lot. But it has the virtue of bringing everyone up close to the action. And the claustrophobic confines of Dwire Hall have never seemed so appropriate.
(c) The Gazette, 1998