The Comedy Of Errors
published: Sun, 1-Oct-2006 | updated: Tue, 21-Aug-2018
Antipholus of Ephesus in The Comedy Of Errors by William Shakespeare for the Dulwich Players at St. Barnabas Hall, Dulwich Village. Directed by Wilfrid Taylor. October 1989.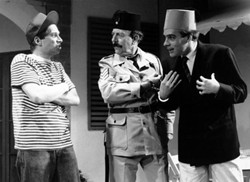 Another production that was great fun, and again I was paired up with Ian Rutter from The Beaux Stratagem, this time as twins. He had to paint on beauty spots to reflect my moles, and I had to color my eyebrows black to mimic his. I must say we looked pretty alike by the time we went on stage... And I'm positive that's me in the photo. Really.
We originally had two Dromios, but one had to pull out. We couldn't find another actor of the right height and build, and so Paul agreed to do both parts. To help the audience understand which Dromio was which, we had to make Paul somehow different for each. My wife had a t-shirt that was red stripes on one side and blue on the other, and so we appropriated it for Paul, who would go off stage, switch it round, and come back on again. I don't think it ever was the same shape again after the show.
The director set the play in some undefined Mediterranean country in the 40s, and we all wore white linen trousers, black blazers, and fezzes. Kind of like the setting for the movie Casablanca.
Cast
| | |
| --- | --- |
| Solinus, Duke of Ephesus | Sandy Alexander |
| Aegeon, a merchant of Ephesus | John Pinnell |
| Antipholus of Ephesus | Julian Bucknall |
| Antipholus of Syracuse | Ian Rutter |
| Dromio of Ephesus | Paul Sykes |
| Dromio of Syracuse | Paul Sykes |
| Adriana, wife of Antipholus of Ephesus | Jane Maynard |
| Luciana, her sister | Susan Adam |
| Nell, her kitchen-maid | Lydia Dickie |
| Balthazar, a merchant | John Pinnell |
| Angelo, a goldsmith | John Horsler |
| Dr Pinch | Patrick Spencer |
| First Merchant | Patrick Spencer |
| Second Merchant, to whom Angelo is in debt | Desmond Ronan |
| An Officer | Frank Ralfe |
| A Courtesan | Jill Alexander |
| Aemilia, an Abbess | Anne Ralfe |
| Waiter | Ben Lovick |
| Shopkeeper | Pat Evans |