The Beaux Stratagem
published: Sun, 1-Oct-2006 | updated: Tue, 21-Aug-2018
Aimwell in The Beaux Stratagem by George Farquhar for the Dulwich Players at St. Barnabas Hall, Dulwich Village. Directed by Ruth Franklin. April 1988.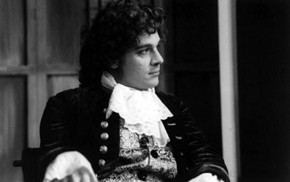 Joyous fun, lots of derring-do: that's restoration comedies. I played one of the young dashing heroes, Aimwell, with a friend Ian (pretty much the same height and build as me) playing Archer, the other dashing young hero. (Note the references to Cupid and love in their names.) I mean to say, just look at that photo: it just screams dashing and young and heroic. What happened? <g>
Anyway, we had wigs, we had restoration costumes, we had ladies with deep cleavages, we had a sword fight with the baddies. What more could you ask for as an actor?
Cast
| | |
| --- | --- |
| Prologue | Willowdean Routledge |
| Archer | Ian Rutter |
| Aimwell | Julian Bucknall |
| Boniface | Wilfrid Taylor |
| Cherry | Alison Miles |
| Mrs Sullen | Jenny Gammon |
| Dorinda | Abigail Topley |
| Scrub | Jim Clarke |
| Sullen | Nick Boulton |
| Gibbet | Michael Foster |
| Foigard | Frank Ralfe |
| Lady Bountiful | Jill Alexander |
| Country Woman | Anne Ralfe |
| Gypsy | Jane Alexander |
| Count Bellair | Ted Tunna |
| Bagshot | Will Dean |
| Tapster | Jeffrey Robbins |