ToDADS is for sale from Lulu
published: Tue, 3-Oct-2006 | updated: Sun, 8-Oct-2006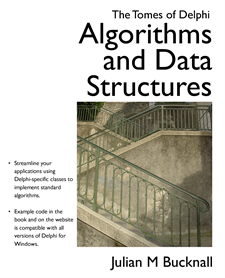 I am pleased, nay, excited, to let you know that The Tomes of Delphi: Algorithms and Data Structures is available for sale again. No longer do you have to pay well over the odds for a copy, you can get your very own, printed just for you when you order it, for a mere $25 plus shipping from Lulu.
And guess what? It's even better than those outrageously priced ones on Amazon! Why? Well, first, it contains all the fixes for the various bugs and errata that have been reported in the last five years and second, you don't have to pay $200+ for it!
So what do you get? You get the exact same content as before (but corrected, as I just said), with a different look and feel. Gone is the yellow busy cover, and in comes the cool white restful look. I am not going to be putting this in bookstores so I don't need the flashy yet tawdry buy-me-now look. Gone also is the tedious same-o typesetting inside, and in comes a classic eminently readable font, both for the text and for the code.
It's slightly thinner than the previous version, coming in at 20 pages less, on good quality paper, in a slightly taller format. The cover blows me away: it's as good quality as the previous one and nicely glossy (my previous experience with low-print-run services had a cover that was just crap; you could rub off the ink). All in all, I'm extremely pleased with the quality of the end-product.
So, nip over to Lulu and buy one right now.
And would someone tell those guys on Amazon their market just died? Thanks.