You Can't Take It With You
published: Fri, 6-Feb-2004 | updated: Wed, 4-Jan-2017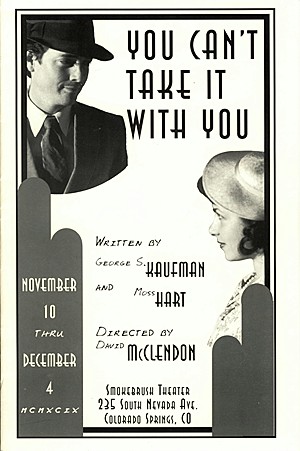 Boris Kolenkhov in You Can't Take It With You by George S. Kaufman and Moss Hart for Smokebrush. Directed by David McClendon. November/December 1999.
Despite the small role I had, a Russian dance teacher named Boris Kolenkhov, this play was worth doing for me because it was directed by David McClendon. I've never met a more focused and dedicated director, and it was a pleasure to be directed by him. He expects the same focus and dedication from his actors and it made the entire rehearsal process a bit like a work out.
For the initial rehearsals he'd essentially work on four or five pages per rehearsal, taking things slowly and steadily. By the end of one of these early rehearsals you pretty well knew your lines from having repeated them so often. At the end of these detailed rehearsals, it became a series of run-throughs where bits and pieces were tweaked.
The play is a standard in American theater (and hence of course I didn't know it). Good fun to do, I felt as if I were in a professional production throughout.
Cast
| | |
| --- | --- |
| Penelope Sycamore | Barbara Summerville |
| Essie Carmichael | LeAnne Carrouth |
| Rheba | Sonya Barnett |
| Mr. DePinna | John Barber |
| Paul | Bruce Carter |
| Ed Carmichael | Scott Allegrucci |
| Donald | Melvin Grier |
| Mr. Vanderhof | David Paynter |
| Alice Sycamore | Merritt Janson |
| Henderson | Al Buettner |
| Tony Kirby | Troy Gleeson |
| Kolenkhov | Julian Bucknall |
| Gay Wellington | Diane Brunjes |
| Mr. Kirby | Jim Modrall |
| Mrs. Kirby | Bonnie Ross |
| Olga | Leslie O'Neil |
| G-Man 1 | Jeremy Moore |
| G-Man 2 | Don Tominello |
Review from the Colorado Springs Independent
The Accidental Comedy

Fireworks fly in Smokebrush's classic comedy
by Owen Perkins

NOVEMBER 18, 1999:

In what is billed as their "last show of the millennium," Smokebrush Theater has turned to one of the best-known and most often produced plays of the century, a classic comedy that defies the aging process and delivers the kind of punch any playwright would be proud to aspire to.

George S. Kaufman and Moss Hart didn't originate madcap comedy filled with zany antics and unconscionable comic coincidence, but they well- near perfected it with You Can't Take It With You. The playwrights build a delirious alternative reality with fistfuls of sanity- challenged characters, ensuring that by the time a normal, everyday businessman and his wife take the stage in the second act, the audience is already primed to see them as stuffy, conservative stuck- in-the-mucks.

The play originally opened in 1936, and it is filled with a carefree philosophy that was a refreshing antidote to the hard times of its era, celebrating creativity, free-spiritedness and stubborn individuality. Its heroes walk away from practical concerns, letting themselves slip into intoxicating comas of escapist illusion and delusion. For a couple of hours at least, the Sycamore family offered a starry-eyed alternative to world-weary audiences.

The Smokebrush production makes an indelible impression before the first scene even begins, thanks to Michael Stansberry's glorious set design. The living and dining rooms depicted onstage are enough to make you want to move in before the show closes and the flats go into storage. Stansberry, in conjunction with props diva Suzi Dillon, have filled the stage with sumptuous antiques and period pieces, ranging from the printing press stage right and a live snake center stage, to the deep woodwork on the stairway and in the foyer by the front door. In an era of apologetic minimalism, there's nothing like an exquisite design to free up the imagination for other pursuits during the performance.

Penny Sycamore is the leading lunatic in the family, working her way through one unwritten play after another -- an avocation she picked up eight years ago when a typewriter was accidentally delivered to the house. The stage is quickly filled with her daughter Essie's efforts at ballet, her son-in-law Ed's xylophone performances, the explosive experimenting with fireworks in the basement from her husband Paul and his assistant Mr. DePinna -- one of the accidental occupants who came to deliver the milk and never left -- the drunken histrionics of the actress Gay Wellington, and a kitchen full of blintzes, courtesy of the Grand Duchess of Russia, currently slumming as a waitress in New York. The patriarch of the family is Grandpa Vanderhof, who walked away from Wall Street 35 years ago to idly follow his bliss.

The action picks up when the Sycamores' younger daughter Alice invites her fiancé's straight-laced family over for dinner. Alice is the black sheep of the family, the Marilyn Munster of the bunch, uncharacteristically conventional and desperate to keep her family's legacy under wraps at least through one critical dinner party.

Barbara Summerville and LeAnne Carrouth anchor the cast as Penny and Essie, hitting just the right note of mayhem and keeping the brisk- paced comedy relentlessly on pace. The rat-a-tat repartee between the various members of the household keeps the audience on its toes with scarcely time to catch their breath. Summerville and Carrouth are joined by Bruce Carter as Paul and John Barber as Mr. DePinna, maintaining the delicate balance between high-energy chaos and carefully crafted characters.

The ensemble occasionally misses the beat when actors stray too far from the measure, either accelerating a bit too frenetically or stalling somewhere below the finely-tuned idle of the Vanderhof- Sycamore clan. David Paynter's Grandpa, for example, is a welcoming, folksy creation, but too often he lapses into a prop-your-feet-up-for- an-anecdote approach rather than the flying-bottle-rockets-by-the- seat-of-the-pants pace. At the other extreme, Scott Allegrucci fills Ed's every moment onstage with high-octane schtick, but his constantly gunned engines often obscure the focus from characters who need the audience's attention.

As the only grounded member of her family, Merritt Janson's Alice is easily overshadowed by the more colorful members of her clan, but Janson still underplays the character, overlooking the spark of personality that first attracted Tony to her. Troy Gleeson's Tony is the play's ultimate straight man, redirecting all his energy to projecting his ceaselessly growing infatuation with Alice. Other notable performances come from Sonya Barnett and Melvin Grier in challenging, outdated roles as Rheba, the domestic, and her boyfriend Donald.

Despite a few speed bumps and brake failures along the way, the production never gets derailed and, overall, is an upper-echelon rendering of an enduring comedy for the ages.
(c) The Independent 1999
Review from The Gazette
Mark Arnest

About midway through "You Can't Take It With You," the audience finds itself witnessing a normal evening in the Sycamore household.

Penelope is in her artist togs, while her model, Mr. DePinna, who came to the Sycamore house years ago to deliver ice and never left, is dressed as a Roman discus thrower. Her husband Paul's face is sooty from a fireworks explosion. Penelope's daughter, Essie, is in a ballet tutu, dancing for her ranting Russian teacher, Kolenkhov, while her husband, Ed, supplies music on the vibraphone. A drunken actress is passed out on the couch.

Upstairs, daughter Alice - the clan's one inexplicably normal member - suspects nothing.

Just then, Tony, Alice's fiance, arrives unexpectedly, introducing his staid, well-to-do parents to the Sycamore household. Playwrights George S. Kaufman and Moss Hart have spent an hour setting us up for this delicious clash of worlds.

In Smokebrush's production of this 1936 Pulitzer Prize-winning farce, director David McClendon and a terrific 18-member cast have resisted every temptation either to camp things up or to lapse into caricature. The result is a fast-moving time machine that wrings just about every possible laugh from a script that, though dated, is still witty.

I doubt if a more professional-looking production has ever graced a Colorado Springs stage. Both Michael Stansbery's old-money set and Lindsay Ray's costumes are gorgeous.

McClendon and the cast have created a gallery of well-defined - though preposterous - characters. The play's soul is Grandpa (Penelope's father), a cheerful hedonist who left his job 35 years ago and has since spent his time attending commencement ceremonies. In this role, David Paynter has the necessary gravity but not always the necessary solidity.

Grandpa's tactless daughter Penelope is played with wild abandon by Barbara Summerville; this character is so light-headed that her feet barely touch the ground, even when she's standing still. As Essie, LeAnne Carrouth may appear too old to play Summerville's daughter, but her characterization is manically brilliant - and perfectly in harmony with Summerville's Penelope. Scott Allegrucci brings an inexhaustible supply of physical humor to Ed.

Merritt Janson and Troy Gleeson are believably adorable as Alice and Tony. Jim Modrall gives an air of pained dignity to Tony's dad.

As Rheba, the housekeeper, Sonya M. Barnett brings an expansive good humor to every scene she's in, while Leslie O'Neil has the play's most deeply funny scene as the Grand Duchess Olga, continuing Czarist palace intrigues even though she's now a waitress.

Even McClendon and his cast can't hide the play's crow's feet. The play's message about getting out of the rat race and enjoying life probably sounds even preachier today than it did in 1936, when it at least had the virtue of being offbeat, and Kaufman's period references have lost whatever teeth they may have once had. But overall, the experience is delightful.

The production is also a chance to bid farewell to Allegrucci, who's leaving Colorado Springs for Los Angeles. Allegrucci's dedication, work ethic, honesty and passion will be missed. I'm sure everyone in the theater community will join me in wishing him the best of luck.
(c) The Gazette 1999