A Christmas Carol
published: Mon, 8-Dec-2008 | updated: Wed, 4-Jan-2017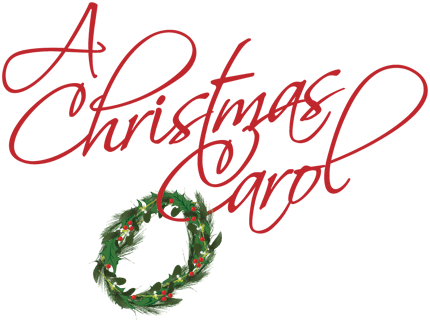 The Ghost of Christmas Present and the Poulterer in A Christmas Carol, story by Charles Dickens, music by Michel Legrand, book by Sheldon Harnick, for the Fine Arts Center Theatre Company at the FAC. Directed by Alan Osburn. December 2008.
So, I was asked back for this year's production having been in it last year. Several others were as well, most noticeably the Cratchit family.
For me: same roles, same costumes, pretty much the same jobs helping with the set. Wearing the stilts was easier this year, like riding a bike really. Overall: some new stuff, such as Scrooge flying with the Ghost of Christmas Past, and some reworked stuff. Most of the same set.
Oh, to recap my conclusion from last year: never act with children. Really.
Cast
| | |
| --- | --- |
| Scrooge | John Rogerson |
| Fred | Kyle Dean Steffen |
| Bob Cratchit | Scott Allan Winter |
| Young Scrooge, Gilbert | Marco Robinson |
| Scrooge's Belle, Fred's Belle | Katie Bray |
| Christmas Past, Charwoman | Ericka Gasper |
| Christmas Present, Poulterer | Julian M. Bucknall |
| Marley, Old Joe | John Parra |
| Coachman, Undertakerman | Bob Heart |
| Mrs. Cratchit | Sally Lewis Hybl |
| Mrs. Fezziwig, Laundress | Lisa Pratt |
| Mr. Fezziwig, John | David Plambeck |
| Charity Man | Jerry Vreeman |
| Grocer | Carson Dennis |
| Joseph | Tony Archer |
| Lucy Cratchit | Brenna Anhder |
| Belinda Cratchit | Becca Rothstein |
| Albert Cratchit | Logan Hybl |
| Tiny Tim | Mallory Hybl |
| Fruit Seller, Mary | Brittani Janish |
| Turkey Boy, Ignorance | Alex Killian |
| Charity Woman, Cynthia | Holly Anne Volstad |
| Fan, Want | Sara Volz |
| Martha Cratchit | Carmen Vreeman |
| Peter Cratchit | Patrick Yukman |
| Fiddler, Toby | Josh Zepf |
| Christmas Future | Rex Bennett |