The Spiral Stair
published: Sun, 22-Apr-2007 | updated: Wed, 4-Jan-2017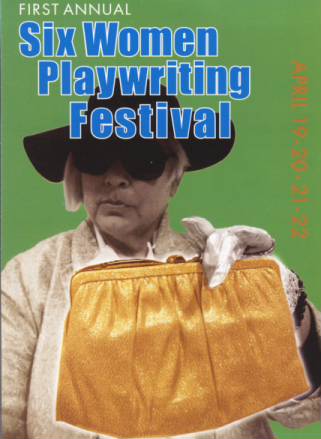 William Butler Yeats in The Spiral Stair by Jan Henson Dow for the Six Women Playwriting Festival at the Manitou Art Theater. Directed by Eve Tilley. April 2007. 5 performances.
Eve sent me this email out of the blue, asking was I interested in playing William Butler Yeats in a one act play. Of course, I said, not quite remembering who Yeats was, Neanderthal computer type that I am. I knew he was an Irish poet of course, but I couldn't for the life of me remember whether I'd ever read any of his poetry.
She then sent me the script and told me what it was all about. It was a festival of one-act plays, previously unpublished and unproduced, by women authors. There had been a call for one-act plays nationally (all had to be no more than 10 typewritten pages) and of the many, many submissions, six were selected to be produced. Each night's performance was to be the six plays, one after the other.
On first reading, the play seemed difficult to me. The language was deliberately chosen to be poetic (in fact, the author has liberally besprinkled lines of Yeats' poetry throughout, as I discovered one evening when searching with Google) and to be Irish. Nothing for it but to go for a soft Irish accent. I was lucky enough to find a couple of recordings of Yeats on the Internet, which helped me immeasurably (thanks must go to Derek Noonan of Dell in Ireland for finding one of them for me).
But, nevertheless, once Eve started directing Barbara and I and we started exploring the play, the language fell into place and flowed and was natural.
In the end, I enjoyed it greatly, despite the door that threatened to fall over every performance, despite almost burning myself on the lantern each time I picked it up. Barbara and I lost ourselves into the characters and the situation and gave it our all.
Cast for Our Neighborhood
By Kerry Gildea
Directed by Rhonda Greder Kimble
| | |
| --- | --- |
| Sophie Santonelli | Sue Bachman |
| Mary Ellen Calabrissio | Sure Breeze |
Cast for The Other Woman
By Judy Klass
Directed by Rhonda Greder Kimble
| | |
| --- | --- |
| Trent | Warren Epstein |
| Lisa | Shanti Dalrymple |
| Danielle | Julie Sweum |
Cast for The Spiral Stair
By Jan Henson Dow
Directed by Eve Tilley
| | |
| --- | --- |
| W.B. Yeats | Julian M Bucknall |
| Maud Gonne | Barbara Summerville |
| Georgie Hyde-Lees (off-stage) | Julie Sweum |
Cast for Encore!
By Mollie Ramos
Directed by Birgitta De Pree
| | |
| --- | --- |
| Bev | LeAnne Carrouth |
| Carrie | Kristi Gilbreth |
Cast for The Garage Sale
By Judy Carlson Hulbert
Directed by Birgitta De Pree
| | |
| --- | --- |
| Marge | Ashley Crockett |
| Joyce | Barbara Summerville |
Cast for Appearances
By Janet Schlapkohl
Directed by Eve Tilley
| | |
| --- | --- |
| Gladys | Gail Carpenter |
| Lucy | Sharon Friedman |
| Vera | Emily Keller |
| Ruby | Barbara Peckham |
Review from The Gazette
'6 Women' festival delivers satisfying series of one-act plays

By MARK ARNEST THE GAZETTE

A festival of new one-act plays is a crapshoot: You don't know whether the submissions will be good or if they'll form a harmonious whole.

So in this sense, the first 6 Women Playwriting Festival, which debuted Wednesday night at the Manitou Art Theater, hit the jackpot: The plays, by women from six states, are mostly worthy (there were more than 80 entries), and they're connected by strong themes of friendship and nostalgia. Add to this the fine productions — with Rhonda Greder Kimble, Birgitta De Pree and Eve Tilley each directing two plays — and what could have been a mere curiosity is instead a thought-provoking and satisfying evening.

The opener, "Our Neighborhood," is the weakest play, due to to playwright Kerry Gildea trying to cram too many issues into too little time.

Actresses Sue Breeze and Sue Bachman left some rubber on the stage floor as the play careened from comfortable friendship to the effects of war on the loved ones at home, to resentment, to nostalgia, to revelations of adultery.

I'm not reviewing "The Other Woman" because my boss, Warren Epstein, is in it, except to say that Judy Klass' play is a one-trick pony. (Fortunately, it's a good trick.)

Jan Henson Dow's "The Spiral Stair" is a slightly melodramatic reimagining of Maud Gonne and William Butler Yeats' final meeting. The highlight is watching Barbara Summerville's Gonne and Julian Bucknall's Yeats radiantly open up as they reminisce about their lost youth.

Mollie Ramos' "Encore!" has a clever premise — the effect on a friendship when a person with a terminal illness suddenly recovers.

As the miraculously recovered Bev, LeAnne Carrouth gives an irresistibly light-hearted performance, nicely counterpointed by Kristi Gilbreth's taken-aback Carrie.

The evening's high point is "The Garage Sale" — both for the naturalness of Judy Carlson Hulbert's play about two women whose long friendship is about to change dramatically, and because of the quietly affectionate performances from Summerville and Ashley Crockett.

In Janet Schlapkohl's "Appearances," three staid elderly ladies at a hair salon turn out to be quite different than they initially seem.

It's worth the price of admission just to see Barbara Peckham's hilarious performance as Ruby — though Gail Carpenter as Gladys and Sharon Friedman as Lucy are no slouches.

Kudos to founder Donna Guthrie, the Manitou Art Theater, and all the others who made this festival possible.
(c) The Gazette, 2006