The Pirates of Penzance
published: Mon, 25-Sep-2006 | updated: Tue, 21-Aug-2018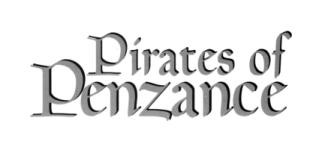 Drunken Disney Pirate in The Pirates of Penzance by W.S. Gilbert and Arthur Sullivan for the Fine Arts Center Repertory Company at the Fine Arts Center, Colorado Springs. Directed by Sandra Womochil Bray. May/June 2006.
Update on 2 January 2007: Our production of Pirates of Penzance won two Denver Post Ovation Awards for 2006. We won the Best Musical, beating out a well-regarded Urinetown, and Chris Sheley, our set designer, won a deserved award for Best Set Design. For fun I'm also including in this update a couple of shots from opening night, taken by Deidre Ford, so you can see the set design, the costumes, and also a certain disreputable pirate. (end update)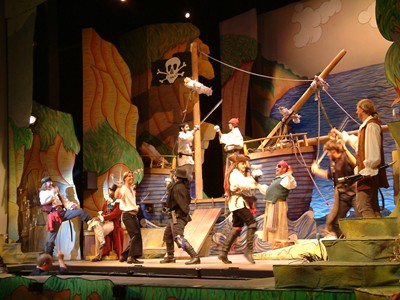 What can I say? I had no lines, a couple of choruses, and the rest was being a pirate. The original plan was for me to be a completely kitted out Disney pirate from the Pirate of the Caribbean ride: wooden leg, parrot, missing teeth, oooo-arrr, you know the thing. I couldn't participate in any of the choreography (such as the sword-fighting) because of my wooden leg, so I just concentrated on making this pirate thoroughly unlovable and disgusting. I had a flask, so he became a drunken pirate. I'd leer at the sisters. I'd feed the parrot on my shoulder. I'd swing my crutch around and swing around my crutch. I'd rehearse by strapping my left leg up and getting a bruise in my left armpit from the crutch.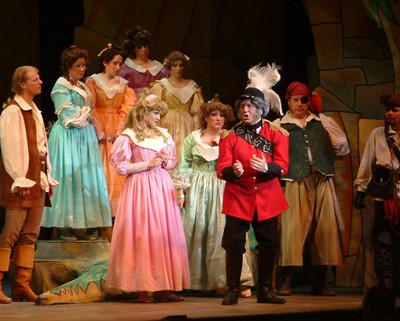 Preston as the (modern) Major General,
and Amy Sue as a pink Mabel
(with a disreputable pirate in the background) And then the news came: they couldn't find a wooden leg, and obtaining a stuffed parrot was looking dodgy. My whole character was falling apart!
In the end, we had to put a shim in my left boot to give me a limp, but the parrot came in on time (it was fixed to my shoulder by magnetic clips, like you find on handbags). To make up for the leg, I had a padded stomach. The rest of my character was still there, in spades. At the end when all the pirates matched up with the sisters, there wasn't a sister for me, so I matched up with my parrot. It was heart-warming. Or something like that.
The funniest part of the whole production was when an actor friend who was watching didn't realize it was me up there. It was only in the final song and dance, where everyone lives happily ever after, that the friend with whom she was sitting said "Wasn't Julian funny and totally in the part?" and she said "What! Julian was in it?" only to have me pointed out to her amazement.
Poor Sharon, who played Ruth, fell ill on the second weekend, and so her role was taken over first by Sandy Bray, and then, for the remainder of the run, by Sue Bachman.
Cast
The Pirate King
Matt Newton
Samuel, Pirate Lieutenant
Ken Robinson
The Rollicking Band of Pirates
Julian Bucknall
Ashaunte Fed
Ian Gustafson
Gabe Henley
Dante Martinez
Ray Sievering
Angel Sosa
Christopher Varano
Frederic, the Pirate Apprentice
Brantley Haines
Ruth, Pirate Maid-of-all-Work
Sharon Gibson
Major-General Stanley's Wards:
Mabel
Amy Sue Hardy
Edith
Miriam Roth Ballard
Kate
Jessica Gisin-Mosley
Fanny
Sarah Ripper
Olivia
Victoria M. Humpert
Josephine
Rachael Mestrovich
Major-General Stanley
Preston Arnold
The Police Sergeant
David Hastings
The Police Bobbies
Rick Jewell
John Ford
Andrew Fritz
Robert Gleason
Timothy Gleason
Logan Webber
Review from The Gazette
'Pirates' a treasure of standout characters, scurvy charm

By MARK ARNEST THE GAZETTE

Yarr! That's pirate-speak for saying the Fine Arts Center's new production of "The Pirates of Penzance" is a masterpiece of inspired silliness.

In director Sandra Womochil Bray's schtick-filled vision of Gilbert and Sullivan's operetta, the high jinks begin even before the overture, when conductor Jay Hahn hauls out an oversized baton with which to battle the sword-wielding pirates.

The pirates, of course, are the scourge of Penzance — or they would be, if the locals hadn't learned that the pirates have a soft spot for orphans. Still, they manage to pose a threat to Major-General Stanley and his six daughters.

Gilbert and Sullivan's works usually aren't star vehicles, but in this production it almost seems as though there's a follow spot on Amy Sue Hardy. As Mabel, the lead daughter — and the love interest of Frederic, the reluctant pirate — Hardy uses her bright soprano voice as a weapon of mass seduction. Hardy is so good that I actually felt pity for Brantley Scott Haines, the cast's excellent Frederic, when he had to follow her in "Stay, Frederic, Stay." Haines has a warm, appealing high baritone, but proximity to Hardy magnified every minute flaw in intonation.

Other standouts in the enthusiastic cast include Sharon Gibson, who displays excellent timing and perfect diction as Ruth, the pirates' maid-of-all-work; Matt Newton as the Pirate King, with his comically poignant surrender; and David Hastings, a perfect picture of stiffness and plodding determination as the police sergeant.

With stunning stagecraft and smoothly precise orchestration, "The Pirates of Penzance" ends the Rep's most consistent season with an exclamation point.
(c) The Gazette, 2006
Review from The Denver Post
Operetta kicks Springs into the big time

by John Moore, Denver Post Theater Critic

After the first draft of this review I had to grab my thesaurus because I noticed I'd used the word "spectacular" six times.

How fun that a 127-year old comic operetta is the ship that sails the Colorado Springs Fine Arts Center's theater company into the big time of today. And it does so with a (yes) spectacular flourish straight out of Gilbert & Sullivan's rollicking "Pirates of Penzance."

The mingling of past and present serves this rocketing company well. It's completing its first season after a $1.5 million modernization of a 70-year-old theater that provides great comfort for 400 while staying true to the 1936 décor.

"Pirates" is an unrelenting pleasure from the start — when two buccaneers shoo director Sandra Womochil Bray from the stage during her welcoming speech, steal some purses (and charm a few socks) off a willing audience, and even engage conductor Jay Hahn in a sword fight — from his orchestra pit.

That kind of lighthearted comic assuredness rules the day. Before you even have time to process the awesome pirate-ship set, the power of a 10-piece orchestra, the colorful costumes and clever choreography ... before you can contemplate where in the world this bevy of 26 gorgeous voices might have come from ... onto the stage flits one Amy Sue Hardy.

We know where Hardy comes from: She's a surging pop star who not only cracked has Billboard's Top 40 but also sings with the opera angels. When she opens her mouth for "Poor Wandering One," she boosts an already excellent show to another level.

She's joined in this silly romp about a band of thieves with a soft spot for orphans by Matt Newton as a great Pirate King, Brantley Haines as the dopey romantic hero who at age 21 has laid eyes on only one woman, and Sharon Gibson as the graying servant who would like her naive young stud to believe she's about as good as it gets in the female department. Enter Hardy as Mabel, with her five intoxicating sisters.

The Major General (Preston Arnold) lacks some panache and vocal dexterity on the singular tune ("Modern Major General") - but given the overall accomplishment, that seems a quibble.

FAC productions aren't often reviewed; the familiarity of titles precludes the need for greater critical assessment. But with this production, a company that recently seemed strictly midrange is suddenly operating at a level not often seen outside touring productions.

It's ... spectacular.
(c) The Denver Post, 2006