Picasso at the Lapin Agile
published: Sun, 26-Mar-2023 | updated: Sun, 26-Mar-2023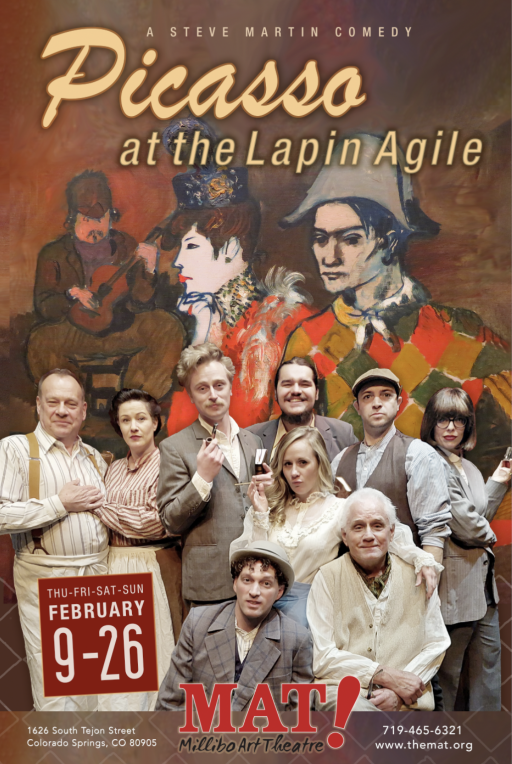 Freddy in Picasso at the Lapin Agile by Steve Martin, at the Millibo Art Theatre. Directed by Jim Jackson. February 2023.
This was the second play I'd done at the MAT (the first being The Importance of Being Earnest). I was a little hesitant in going to the auditions, since I hadn't been on stage for over 4 years and that last time was a staged reading. Plus, I'd never heard of nor seen this play. But, when I saw the audition notice, I was hooked: there was a part for someone called Gaston and when we lived in France in the 60s there was a song released that had the refrain "Gaston y'a l'téléfon qui son" and I could sing the chorus even now.
So off I went, read for Gaston and for Freddy, and got the Freddy part. Playing Freddy also involved breaking the fourth wall and addressing the audience directly. There was one point at the very start of the show when Freddy goes to the front row and borrows a programme to reinforce a point he's trying to make with Einstein. Every performance I'd be backstage a couple of minutes before the lights went up looking at the front row, trying to spot someone with a programme in their lap that I could easily borrow…
The other thing about Freddy is that he's on stage for the whole time, apart from one three minute break when he dashes off to collect a bar tab from one of his regulars (and when Germaine, his girlfriend, and Picasso have an intimate conversation). There's one point where for 7 pages he's in the background, quote, balancing the books, unquote, and for one rehearsal rather than just scribble nonsense in Freddy's record book, I decided to check all the calculations that Einstein does on Freddy's behalf. Let me just say that the one big calculation that Freddy presents and that Einstein does in his head produced the wrong answer! Take that, Einstein!
An incredible cast of which I knew but three actors: Anna Faye, Miriam, and Mike Miller. Even better, Jim decided he wanted a musical accompaniment and so we had Mark Arnest on the piano.
All in all, a thoroughly enjoyable show to be in and do. Even better for Jim and Birgitta (the owners of the MAT) was the fact that every performance (we did 11, over three weekends) was pretty much sold out.
Cast in order of appearance (a joke from the play)
| | |
| --- | --- |
| Freddy | Julian Bucknall |
| Gaston | Michael Miller |
| Germaine | Miriam Roth |
| Albert Einstein | Colton Pratt |
| Suzanne, The Countess, A Female Admirer | Anna Faye Hunter |
| Sagot | Rachel Ray |
| Pablo Picasso | Michael Lee |
| Charles Dabernow Schmendiman | Sean Verdu |
| A Visitor | Isaiah Culling |