The Nerd
published: Fri, 6-Feb-2004 | updated: Wed, 4-Jan-2017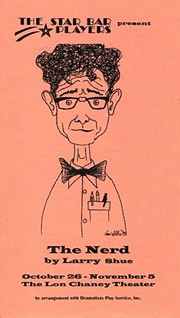 Axel Hammond in The Nerd by Larry Shue for Star Bar Players at The Lon Chaney Theater. Directed by Eve Tilley. October/November 1995.
Ay, yay, yay. For some reason, I wasn't really into this production: I just couldn't settle into it. It was my third play in a row directed by Eve Tilley, so that should have made it easier. It had some gorgeous actresses (Jane Fromme and Alysabeth Clements), some great actors (Mike Morgan and Greg Lanning, taking over the play as the Nerd), another great set from Sol Chavez, but I felt like a square peg at a round hole party.
And it was a shame. The play is hilarious, including this ruddy stupid scene where we all had to eat garbanzo beans on rusks (you just have to see this play to believe it). Larry Shue was (he died in a plane crash in his prime) a great comedy playwright, and The Nerd and The Foreigner are his two best-known and best-loved plays.
The first night I went up, good and proper. ("Going up" is actor-speak for not only forgetting your lines, but also having absolutely no idea about how to recover, what the play is about, what plot points should be brought out to the audience's attention.) Alysabeth did a completely heroic job at getting me back on track (we were the only people on stage), for which I am justifiably in awe. Of course, it would be the night that the critic came...
We also had a complete horror of Damian, who was playing Thor, the ten-year-old son in the "straight" family. This kid would run around backstage during the show, get into places he shouldn't have been, etc. The play became known as The Omen. I'm sure he's a really nice chap now (I write this ten years later) but at the time we were imagining taking on a store dummy instead and watching out for flying panes of glass.
This production has to be quite simply the very best thing I've ever seen Greg Lanning do. Amazing, simply amazing. It was bloody hard not cracking up on stage and instead trying to stay in character.
Cast
| | |
| --- | --- |
| Axel Hammond | Julian Bucknall |
| Tansy McGinnis | Alysabeth Clememts |
| Willum Cubbert | Michael Morgan |
| Warnock Waldgrave | Mark Walton |
| Cielia Waldgrave | Jane Fromme |
| Thor Waldgrave | Damian Bedford |
| Rick Steadman | Greg Lanning |
Review from the Gazette Telegraph
Belly laughs predominate in 'Nerd'

Warren Epstein

The Star Bar Players, with the help of a witty script by Larry Shue, have constructed the section of hell Dante left out.

The poor souls who inhabit this domain are burned by hypocritical politeness and tormented by a most hideous demon: The Nerd. He's the house guest of your nightmares, a lanky guy in a thin black tie with a personal style that makes Forrest Gump look like James Bond.

The title character of "The Nerd" shows up at the most inauspicious moment. An old acquaintance, an insecure yuppie architect, is throwing a dinner party for an important client.

The Nerd arrives wearing a demon-monster outfit that looks like it slithered off the set of "Power Rangers." He thinks he's been invited to a costume party and embarrasses the client and his wife by laughing at their "business man" and "teacher" costumes.

Then he pressures everyone into a party game that involves paper bags over their heads and shoes and socks that end up in a mud puddle.

Worse, the Nerd doesn't leave when the party ends; he moves in. Why doesn't the architect kick him out? Ah, there's the rub.

The Nerd dragged the architect from a firefight in Vietnam, and the architect owes him his life.

It's a funny setup, one that makes all the characters straight men to the Nerd, played with childish enthusiasm by Greg Lanning.

At first, Lanning seems to be doing an impression of Bill Murray's lowlife groundskeeper from "Caddyshack." But as the play develops, Lanning displays a hilarious gangly body language that makes the character his own.

Michael Morgan, as the architect, and Alysabeth Clements, as the architect's girlfriend, are naturals; they seem to simply live, rather than act, on stage.

But Julian Bucknall, as a pretentious theater critic, looks a bit stiff. Granted, some of that may be the nature of the character, but his efforts to keep himself facing the audience at all times seem forced.

Fortunately, he loosens up by the second act. The architect, desperate to rid himself of the Nerd, decides to convince him their town is too foreign, too weird and too dangerous. The roles, then, are reversed, and the Nerd becomes the straight man.

Belly-laugh time. The strange dances, the nutty customs, the disgusting foods and the outlandish warnings take absurdity to a new level.

Director Eve Tilley has created a show with so many funny moments that laughing is mandatory.

Kids will enjoy the play for its pure slapstick. Like Jim Carrey in "Dumb and Dumber," and "Ace Ventura," Lanning's Nerd is a classic buffoon. You can just look at his face and crack up.

But there's more to "The Nerd" than simple clowning. The depth of its humor comes from the tension created when people avoid dealing with one another directly.

Unfortunately, the play has rough edges. During last Friday's performance, the actors tried too hard to be funny - unnecessary since the action and dialogue need no embellishment. They also seemed to push the action by anticipating surprises rather than listening, watching and letting reactions unfold.

The set and props also could use more realism. At the dinner party, guests sit down to phoney-looking papier-mache Cornish hens. Another distraction was a "brick" fireplace that looks like painted cardboard.

Still, those problems are minor when a show is funny enough to make your gut ache from laughing so hard.
(c) Gazette Telegraph 1995