The Musical Comedy Murders of 1940
published: Fri, 6-Feb-2004 | updated: Wed, 4-Jan-2017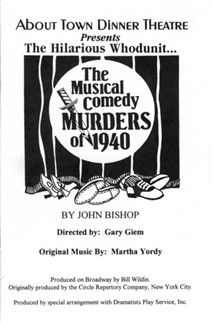 Ken de la Maize in The Musical Comedy Murders of 1940 by John Bishop for About Town Dinner Theatre at the Broadmoor Hotel. Directed by Gary Giem. October/November 1994.
Yes, we did this as dinner theater at the Broadmoor: my first dinner theater. Kind of fun: we'd arrive when the waiters were serving the audience and change and get ready for the show, which would be performed as after dinner drinks were being served. We'd nick rolls and butter as they came back from the tables. Our stage was on one corner of the room, kind of small, but adequate. I suppose our audience was about 80 people per performance. It was in the West section of the Broadmoor, which has now been completely redeveloped.
I remember the director, who was out of Denver, saying after we'd all been cast that I should have a "mid-Atlantic" accent by the time we started rehearsing. And that we should all know our parts by the first rehearsal. So I dutifully learnt my part and learnt it in what I fondly imagined was a mid-Atlantic accent. I was pretty proud of myself by time we all met up again, only to be told by the director that he wanted Ken de la Maize to be English and what was I doing? Sigh.
Apart from that, the only real thing about this production that I remember clearly was that Patty, who played the ingenue (and also out of Denver), was terrified of knives, and cut-throat razors in particular. And, lo, my character at one point had to grab her from behind and threaten to cut her throat with a cut-throat razor, thereby using it according to its name. Well, this damn razor was blunt beyond belief, the edge had been ground down -- and it was even wrapped in silver duct tape -- but one night I accidentally touched her with the razor during this final scene and she screamed the place down.
Oh and this was the first play I appeared in for which I got paid. I can't remember how much now -- it wasn't much -- but it's the principle of the thing. I was a paid actor!
(By the way, the cast were half from Denver and half from Colorado Springs. The locals were me, Cathy, Mel, Michael, and Scott.)
Cast
| | |
| --- | --- |
| Helsa Wenzel | M.B. Rikeman |
| Elsa Von Grossenknueten | Cathy Strode |
| Michael Kelly | Melvin Grier |
| Patrick O'Reilly | Michael Borghi |
| Ken De La Maize | Julian Bucknall |
| Nikki Crandall | Patty Prendergast |
| Eddie McCuen | Scott Leonard |
| Marjorie Baverstock | Susan Koenig |
| Roger Hopewell | Gregory Price |
| Bernice Roth | Mimi Sparks |
Preview from the Gazette Telegraph
Murder, Anyone?
About Town Dinner Theatre presents a thriller - just in time for Halloween

Warren Epstein; Gazette Telegraph

You won't hum catchy tunes from "The Musical Comedy Murders of 1940" as you leave the theater. That's because it's not a musical.

"My friends are telling me, `Cathy, that's really confusing,' " says Cathy Strode, producer of the About Town Dinner Theatre. "I know it is, and I don't want people expecting music."

What they should expect, she says, is a first-rate comedy whodunit performed by the biggest professional cast ever assembled for an About Town show.

A parody of corny Hollywood thrillers of the '40s, the story is about a group of performers who gather at an old mansion to audition for a new show. But they soon discover (organ music, please) that they're trapped inside, tricked by a producer bent on catching the murderer among them.

"We chose it because it'll run through Halloween, so we figured people would be getting in the mood" for a thriller, Strode says.

The cast includes five actors from Colorado Springs and five from Denver. Three of the local actors - Mel Grier, Michael Borghi and Julian Bucknall - appeared in Theatreworks' "Love's Labour's Lost" this summer.

Director Gary Giem taught drama at Denver University and has directed shows throughout Denver.

For About Town, this elaborate production represents a budgetary high. The company started as a seat-of-the-pants gypsy theater group, hopping from venue to venue. They moved into The Broadmoor in January, and since then, Strode says, their shows have been a solid draw.

"It's the perfect intimate little space for a dinner theater," Strode says. "The main base of support is local, but this summer we've had a lot of support from Broadmoor guests as well."

Some of the proceeds from the play will benefit Court Appointed Special Advocates (CASA), a group dedicated to fighting child abuse.
(c) Gazette Telegraph, 1994
Review from The Gazette
'Murders' entertains with humor, harmony and, well, homicide

Mark Arnest

A good meal and a funny play. "The Musical Comedy Murders of 1940," produced by About Town Dinner Theatre at The Broadmoor's Spec's Spot, makes for a thoroughly delightful evening of entertainment.

"Musical Comedy Murders" begins with a midnight murder at a mansion in Chappaqua, New York. The next day a group of musical theater people gather at the mansion - supposedly to audition for a new musical but actually to flush out the "Stage Door Slasher," the homicidal maniac who had closed the group's last musical.

The characters are a lineup of '30s and '40s stereotypes: a lovable lug, a naive chorus girl, a director torn between art and money, a granite-headed policeman, a cynical songwriter, an eccentric millionaire - and a bevy of bad guys skulking through a plethora of secret passageways.

Unlike many spoofs, John Bishop's play is very well written. It parodies Hollywood mysteries of the '30s and '40s but doesn't mock them. The abundant gags run the gamut from scatological to literate and, though there are plenty of "in" jokes, the play doesn't depend on them.

With such a strong cast, director Gary Giem's job must have been a lot of fun. Scott Leonard shines as Eddie McCuen, the struggling comic who only shows up because he never turns down a chance for a part. Patty Prendergast gives Nikki Crandall, the chorus girl, an exhaustive repertoire of authentic B-movie facial expressions.

The supporting cast is just as good. Susan Koenig is such a delight as the nouveau-riche producer, Marjorie Baverstock, that it's a pity the part isn't larger. M.B. Rikeman plays the most implausible role, the German maid Helsa Wenzel, with barely suppressed rage (though her accent floats a bit). Mimi Sparks plays the writer, Bernice Roth, in the manner of Roseanne, which (surprisingly!) works. Michael Borghi has fun with Patrick O'Reilly's Irish accent.

Cathy Strode (who also produced "Musical Comedy Murders") is perfectly eccentric as the wealthy Elsa von Grossenknueten. She and Mel Greer as policeman Michael Kelly team up in a bit of charades that's the play's funniest scene. Gregory Price plays Roger Hopewell, the composer, with sublime cattiness and Julian Bucknall gives director Ken De La Maize a lot of range.

You'll especially enjoy this play if you're familiar with the style it spoofs.

In fact, except for the length ("Musical Comedy Murders" is a bit long for a spoof), and the musical accompaniment (which is OK but desperately needs a little reverb - Spec's Spot's acoustics are bone dry), there isn't much in "Musical Comedy Murders" that could be improved.
(c) Gazette Telegraph, 1994