Murder in the Cathedral
published: Fri, 6-Feb-2004 | updated: Wed, 19-May-2021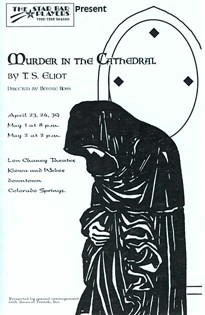 Third Tempter in Murder in the Cathedral by T.S. Eliot for Star Bar Players at The Lon Chaney Theater. Directed By Bonnie Ross. April/May 1999.
Two years after The Lion in Winter, I was back in the 12th century tempting Thomas à Becket with power and influence.
Murder in the Cathedral is more about the events leading up to the killing of Becket, than about the actual crime. It's written by T.S. Eliot as poetry rather than as a "straight" play, so it's difficult to put on in the same manner that Shakespeare is difficult to put on: you have to get across the meaning without getting swamped in how to say the lines. To be honest, for me, it was a very difficult play to watch; difficult in the sense that it was hard to understand what was happening and what was going on. I think I did a reasonable job at getting the third Tempter's inducements across, but it was very hard and I wasn't altogether happy with it.
(In essence, Becket has returned to England from a self-imposed exile, knowing that it will only be a matter of time before he antagonizes Henry II again despite their friendship in their youth, and knowing that, this time, Henry might not be so lenient. The Tempters try and persuade Becket with various attractions to try and attack and overcome Henry first.)
As it happened, my part was relatively small, and it was all over for me after 15 minutes in Act I. I spent the remainder of the performance back in the dressing room writing my book: I'd just signed the contract.
Funnily enough, just like for The Lion in Winter, I wrote a quick essay for the programme to set the play's events in context for the audience. I was rapidly becoming the expert in 12th century English politics...
The story so far... The mid-twelfth century was a time of great turmoil in Europe. Church and State in many countries coexisted in uneasy compromise-the State deferring to the Papacy in ecclesiastical matters, the Church to the State in secular power. However, barons had made the Church very rich and strong; after all, what better way to assure a better life after death than to will your lands to the Church? Henry II's predecessor, a weak king named Stephen, had also been in the habit of giving lands to the Church, further weakening the State's power.

Henry wanted to restore the old status quo by reinstating the customs of the kingdom before Stephen's disastrous reign. To do that he needed a friend in high places in the Church, and managed to persuade the Pope to make his long-time friend and Chancellor, Thomas à Becket, Archbishop of Canterbury in 1162. From that point, with the Church in England in his pocket, he could proceed apace and turn the clock back, at least as far as the Church's temporal versus ecclesiastical power went.

Unfortunately, Becket took his new job seriously. He clashed with Henry over the publication of the Constitutions of Clarendon in 1164, Thomas resisted them, rupturing the fragile alliance between Church and State, and was forced to take refuge in France. He stayed there for six years, until a reconciliation seemed to make it safe for him to return to Canterbury. Once there, Thomas again enraged Henry. He took a stand against the King's attempt to crown his oldest son while Henry was still living, and subsequently excommunicated the Archbishops who had performed the ceremony. From there our story picks up: four knights heard Henry's temper ask, "Who will rid me of this troublesome priest," and murdered Becket on December 29, 1170.

What happened then? The murder filled England with terror. Becket was made into a martyr. Henry, prostrated with guilt and fear, made pilgrimages to the shrine and subjected himself to public penances. In 1172 he made peace with the Papacy and essentially got what he'd wanted in the first place: the Church, at least its secular character, to submit to the laws of the State. It wasn't until the 1500's that his descendant, Henry VIII, had the power and will to permanently destroy the link between England and Rome, avenging Henry II by destroying the shrine of St. Thomas at Canterbury, and establishing the Church of England with the monarch as secular and ecclesiastical ruler.
Cast
| | |
| --- | --- |
| A Chorus of Women of Canterbury | Jeanette Barzee |
| | Leslie O'Neil |
| | Lisa Schulz-Simmons |
| Priest 1 | David Loda |
| Priest 2 | Michael Tulloss |
| Priest 3 | David Paynter |
| Messenger, Attendant | Eric Dahlgren |
| Archbishop Thomas à Becket | Mark Hennessy |
| Tempter 1 | Al Buettner, Jr. |
| Tempter 2 | Rock Campbell |
| Tempter 3 | Julian M. Bucknall |
| Tempter 4 | Susannah Weaver |
| Knight 1 | Ryan Eggensperger |
| Knight 2 | Rock Campbell |
| Knight 3 | Tom Klein |
| Knight 4 | Al Buettner, Jr. |
Review from the Gazette Telegraph
Despite timely issues, 'Murder in the Cathedral' drags

Mark Arnest

"Church is boring even when it's in a play," one patron said during the intermission of the Star Bar Players' production of "Murder in the Cathedral," T.S. Eliot's 1935 play in verse about the 1170 murder of Thomas Becket, archbishop of Canterbury.

Well, sort of.

"Murder in the Cathedral" is rich but static, and Eliot's language doesn't reveal all its beauties at first hearing - seeing the play may make you want to go read the script. The play is concerned with such weighty topics as the willingness to die for your beliefs, the conflict between the spiritual and the worldly, and above all, pride and martyrdom. Though the action takes place centuries ago, the issues remain timely.

What it's not about is dramatic action - which, briefly, is that Becket, who's spent seven years in exile after angering King Henry II, has returned to England believing he will be killed (he is).

Lacking action, everything centers on the character of Becket, played here with dignity by Mark Hennessy. Becket is tempted with pleasure, with worldly power (both from the government and from the people), and with immortality through martyrdom. This last temptation is the greatest, and Hennessey portrays Becket's anguish - and his triumph - without histrionics.

While Becket lives in the world of the spirit, the knights who kill him (they took the king's question - "Who will rid me of this troublesome priest?" - seriously) represent different aspects of our more pragmatic age. We didn't do it for ourselves, but for the country, says one; another appeals to reason, saying the church cannot be above the state; the last knight explains that Becket all but forced them to kill him - calling it "suicide while of unsound mind."

Meanwhile the poor of Canterbury discuss their bleak lives, "living and partly living," and the priests talk about the church and their beloved Becket.

This ought to be plenty to chew on for an evening - so why does "Murder in the Cathedral" drag?

Much of the responsibility is Eliot's. He writes like a poet, not a playwright, and his language - rich both in imagery and poetic technique - is better mulled over than heard once.

Nor are Eliot's dramatic instincts infallible. From Greek drama he borrows the idea of a chorus to set the scenes. Unfortunately, virtually everybody in this play except Becket belongs to a chorus: three women representing the poor of Canterbury, three priests representing the church, four wheedling temptations, and four murderous knights. Archetypes quickly become boring, and as a result, when Eliot briefly allows each knight his own personality near the play's end, our relief is so enormous that the knights' rationalizations sound more convincing than they probably should.

Finally, director Bonnie Ross and her cast haven't always found the rhythm in Eliot's language. This isn't to imply that Eliot's verse can be read like Homer; his own recordings show a relatively conversational approach. But it's conversational verse, not prose, and rhythm is essential both to the meaning and to the forward momentum.

Within the chorus of women, Jeanette Barzee gets closest to Eliot's rhythms; Julian Bucknall is a cheerfully pragmatic tempter; among the improbably likable quartet of knights - Ryan Eggensperger, Tom Klein, Rock Campbell and Al Buettner - Campbell's plain-spoken eloquence stands out.

One of the century's towering artistic figures, Eliot remains enigmatic - as culturally conservative as he was artistically progressive. He revolutionized poetry, said one critic, in order to tell people to go to church. Flawed but compelling, "Murder in the Cathedral" remains the best gateway to his later work.
(c) Gazette 1999