Moon Over Buffalo
published: Fri, 6-May-2005 | updated: Wed, 4-Jan-2017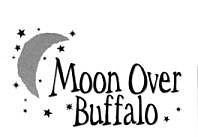 Richard Maynard in Moon Over Buffalo by Ken Ludwig for the Fine Arts Center Repertory Company at the Fine Arts Center, Colorado Springs. Directed by Hela Robran. March 2005.
A fun farce about acting and the theatre and love and aging (not so) gracefully. Sounds ideal fare for yours truly to get his teeth into, but, I have to report, it just didn't gel for me. I don't know why: it was a small part, agreed, but funny enough; a straight man with some zingers of lines.
But I felt like I couldn't get the measure of the character and his position in the play.
And so to me it seemed I was phoning it in. Luckily the rest of the cast were being zany and going off and coming on and just missing each other and all those farce conventions were in force and the audiences seemed to enjoy it.
It was a shame really: we had a good cast who worked really hard, a great set (although like every farce there was a surfeit of doors), and a director who understood the customs of farce. But... Oh well, maybe next time.
Cast
| | |
| --- | --- |
| George Hay | Mark Hennessy |
| Charlotte Hay | Amy Brooks |
| Ethel | Ashley Crockett |
| Rosalind | Jenice Marshall |
| Howard | Preston Arnold |
| Eileen | Christina Bakken |
| Paul | Jordan Arrick |
| Richard | Julian M Bucknall |
Review from the Gazette
'Buffalo' plays like stampede of jests

By MARK ARNEST THE GAZETTE

"Moon Over Buffalo" is like sausage: You'll thoroughly enjoy it, as long as you don't look too closely at the ingredients.

The Fine Arts Center's supersonically paced production of Ken Ludwig's excellent farce is a feast of one-liners and physical comedy. It won't stimulate deep thoughts — Ludwig is counting on us to forget parts of Act 1 during intermission — but that's not its goal. And it won't clog your arteries.

The story centers on the formerly up-and-coming stage couple George and Charlotte Hay. It's 1953, and the gently falling arc of their careers has deposited them in Buffalo, New York, where they alternate performing "Cyrano de Bergerac" with "Private Lives."

There's more than average turmoil in the company. On the upside, the couple's dreams of silver-screen stardom could be rekindled: Movie director Frank Capra is coming to the matinee performance of "Private Lives," seeking leads for "Twilight of the Scarlet Pimpernel."

And on the downside, George seems to have impregnated Eileen, the company's ingenue.

Other characters include their daughter, who has quit the company and plans to marry Howard, the oh-so-normal TV weatherman, instead of Paul, the actor; Charlotte's hard-of-hearing mother, who hates George as much as he hates her; and the urbane lawyer who wants Charlotte to run away with him.

Into this, Ludwig injects a host of recurring gags, including the Three D's of farce: Deafness, Drunkenness and mistaken iDentity (OK, a stretch). Director Hela Robran sets a frenetic pace, and a happy mix of veteran and new talent answers the challenge. Blink, and you'll miss something.

The Hays are written as theater-obsessed stereotypes. Charlotte is less upset by George's affair than by the revelation that he offered Eileen one of her roles; and when Charlotte starts to leave, George pleads for her to stay, not because he loves her, but because "we have a matinee!"

Mark Hennessy and Amy Brooks make the couple endearing as well as amusing by showing us George's and Charlotte's hearts. We care about them because we see how deeply they care about each other.

Hennessy's bigger-than-life George is especially impressive — we knew he could act, but who knew he was so good at falling over things?

The supporting cast is also excellent. As Charlotte's mother, Ethel, and the lawyer, Richard, Ashley Crockett and Julian Bucknall are quietly perfect; they make acting seem easy. As the Hays' daughter, Jenice Marshall is appealing in the always-frustrating straightwoman role, and is wellmatched with the ever-improving Jordan Arrick as Paul. Christina Bakken mostly sobs as Eileen, but sobs with real comedic spirit; and Preston Arnold brings out the terminally boring Howard's likable side.

Ludwig has built his career on faux-screwball comedy: His other popular period re-creations are "Lend Me a Tenor" and the Gershwin musical "Crazy for You." He treads old ground, but his secret lies in making it more appealing to contemporary audiences.

At times, Ludwig gets so caught up in the moment that he forgets what he wrote earlier. But although he occasionally drops something, his ability to keep so many comedic plates in the air identifies him as a master of his art.

Just don't read the ingredients.
(c) The Gazette 2005