Lysistrata
published: Fri, 2-Nov-2018 | updated: Fri, 2-Nov-2018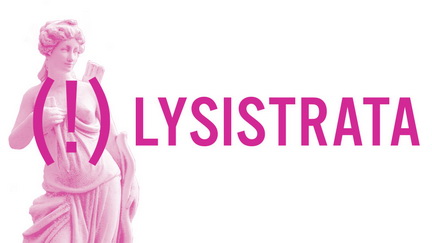 Cinesias in Lysistrata by Aristophanes, translated by Sarah Ruden, for UCCS Theatreworks. Directed by Joye Cook-Levy as a staged reading. October 2018.
OK, a bit of a weird one, this. First of all, I had heard of Lysistrata before, if fleetingly, as a play where the women ban the men from sex until the latter acquiesce and do what the women want. That is, stop the war. And, as the Wikipedia article points out, the theme has been used many, many times in the following 2,500 years since it was first produced in 411 BCE. One thing I hadn't really realized before is that it's a comedy, a very bawdy comedy in fact, and Sarah Ruden's translation takes that to 11. There are dick jokes galore.
The Theatreworks production was to be done as a staged reading, with a very short rehearsal period and just five performances. In fact it was all rehearsed and performed within a single two-week period (which was one reason I decided to try for it: no clashes with any business travel I had). I was cast as Cinesais, the husband of Myrrhine, who turns up at the Acropolis, the "store" for Athens finances/money and currently occupied by the Athenian women, asking for her so he can have some sex because it's been so long since she's been gone. Despite the staged reading aspect of the production, Joye decided that this particular comedic scene was to be played without books, and Jane and I had essentially a week to learn it and rehearse.
Plus, in order to represent, er, erections (yep, the play is that bawdy), Joye decided on using various gourds. I, in particular, had three of varying sizes and the plan was to somehow switch them during our scene to show my erection getting bigger. Let's put it like this: it just didn't work, so we reduced it to two, and then one, the largest of the trio. Which was then spray painted green from its original pale orange. Just because <cough>.
The other thing was we were all on stage the entire time, either "in" the play's action or seated on a row of chairs at the back of the stage waiting for our turn. Since Jane's and my scene wasn't until later I'd spend the time doing calculations in my head as to how long I'd been sitting down. The play was 73 pages long, took a smidge more than 1 hour 15 minutes, and I appeared on page 47. So, roughly 50 minutes seated before I could get up and pretend to be outside the Acroplis gates and do the scene with Jane. Yep, a maths geek.
What else? We all came in from the rear of the theatre with live music (a small band of three, clarinet, violin, and percussion, who provided a boom-tish for every dick joke in the play) wearing masks and walked in procession to our chairs. The chorus was indeed a chorus, all saying the same lines at the same time. To me, sometimes that worked, and then sometimes it ... didn't.
Cast
| | |
| --- | --- |
| Lysistrata | Betty Hart |
| Calonice | Kelly Dianna MacLeod |
| Myrrhine | Jane Fromme |
| Lampito | Marisa Dannielle Hebert |
| Men's Chorus Leader | Al Buettner |
| Chorus of Old Men | Kee Warner |
| Chorus of Old Men | Sol Chavez |
| Chorus/Ambassador | Leo Scott Rivera |
| Women's Chorus Leader | Sue Bachman |
| Chorus of Old Women | Eve Tilley |
| Chorus of Old Women | Chris McGarry |
| Chorus of Old Women | Suzanne MacAulay |
| Councilor | Seth Palmer Harris |
| Woman #1/Spartan Herald | Solveig Olsen |
| Woman #2/Athenian Ambassador | Lisa Siebert |
| Cinesias | Julian Bucknall |
| Spartan Ambassador | Max Ferguson |