The Importance of Being Earnest
published: Fri, 6-Feb-2004 | updated: Wed, 4-Jan-2017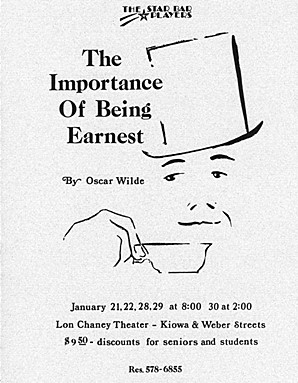 Algernon in The Importance of Being Earnest by Oscar Wilde for Star Bar Players at The Lon Chaney Theater. Directed by John Barber. January 1994.
This was notable for being my first role in a play in the States.
I'd been living in Colorado Springs for about 6 months by the time the audition notice came out, and the only people I knew were the people at work. I knew from my acting in London that doing plays was a great way to get to meet others, a different world from the programming world, but I was a little worried about my accent. How would it go down? After all, my American accent then (as it is now) is bloody awful and would stick out like a sore thumb on stage.
Anyway I saw the audition notice in the paper and thought to myself that if I couldn't get a part in a quintessential English play then maybe I shouldn't be acting at all.
Needless to say the audition went pretty well (I remember it being at a school in Manitou Springs with snow and ice everywhere) and I got the part of Algernon and was immersed in the world of theater in Colorado Springs. I met a whole bunch of new people, a fine bunch of actors (especially in this particular production), some of whom I still know and are friends with to this day.
The joke of the production, especially when we got to Hell Week before we opened, was me asking whether we were going to have a prompter, one being de rigueur in past productions I'd been in. John, the director, laughed his head off and said "we don't do that here". And, to be honest, I didn't need one then and haven't since (even though there have been a couple of times where it's been close).
Cast
| | |
| --- | --- |
| Lane | Curt Layman |
| Algernon Moncrief | Julian Bucknall |
| Jack Worthing | David E. Mason |
| Lady Bracknell | Marcia Peterson |
| Gwendolyn Fairfax | Alysabeth Clements |
| Miss Prism | Sue Bachman |
| Cecily Cardew | LeAnne Lyman |
| Dr. Canon Chasuble | Greg Lanning |
| Merriman | Chris Dysart |
Review from the Gazette Telegraph
"Earnest" cast brings out the best in Oscar Wilde's masterpiece

Mark Arnest

I was worried about the Star Bar Players' production of Oscar Wilde's "The Importance of Being Earnest" before it started. John Barber's director's note discussed "learning and growing" from the play, and its "personal relevance," and even urged the audience to become "emotionally involved."

I feared the icy grip of high art on this frothiest of frothy comedies.

My fear was unjustified. Despite his note, Barber has given us a straightforward, hilarious "Earnest" - one that shouldn't be missed.

True, "Earnest" lampoons Victorian hypocrisy. But, well, Victorian hypocrisy isn't much of a problem nowadays. We've developed forms of hypocrisy better suited to our way of life. And Wilde's lampooning is gentle, even affectionate; after all, he spent years gaining access to Victorian society, and never recovered from the trial that excluded him from it forever.

And Wilde certainly never intended for us to become emotionally involved with his characters, all of whom are as shallow as a wading pool.

No, "Earnest" is funny in spite of - or perhaps because of - its tenuous connection to our world. Audiences continue to go to hear Wilde's dialogue - as sparkling and clever as any ever written - not to empathize with his characters.

Of course, Wilde's dialogue still needs people to speak it. And this "Earnest" is blessed with a fine, well-directed cast.

Alysbeth Clements is devastatingly shallow as Gwendolyn Fairfax. Emotions flicker across her face with lightning rapidity and are just as suddenly . . . gone. David E. Mason as Jack Worthing is at his best in the third act, when the part is hardest. Julian Bucknall is a convincing fop as Algernon Moncrief. LeAnne Lyman's Cecily Cardew seems closer to 28 than 18, but otherwise is delightfully unspoiled. Marcia Peterson's Lady Bracknell is a perfectly pompous windbag.

In lesser roles, Sue Bachman is a fine Miss Prism, although the script calls for someone of more "repellent aspect"; and Greg Lanning's smarmy Dr. Chasuble could hardly be improved upon.

The most serious thing about "Earnest" is its history. Wilde finished the play in 1895; he was just 41 and finally hitting his stride (late bloomers can take heart that virtually everything Wilde is remembered for was written after he was 36).

Shortly after the play premiered, Wilde initiated his famous libel suit against the Marquess of Queensbury - the ultimate result of which was Wilde being jailed for two years for homosexuality. He wrote no more plays and died in 1900, a broken man. "Earnest" is Wilde's masterpiece, but also the swan song of the Wilde the world loves.

Mark Arnest is the Gazette Telegraph's theater critic.
(c) Gazette Telegraph 1994