The Hypochondriac
published: Sun, 1-Oct-2006 | updated: Tue, 21-Aug-2018
Cleante and Sganarelle in The Hypochondriac by Moliere, translated by Alan Drury, for the Dulwich Players at St. Barnabas Hall, Dulwich Village. Directed by Ruth Franklin. January 1992.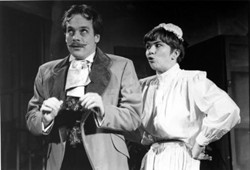 I really can't remember much about this production fifteen years later, apart from the play within a play in the middle, where I got to sing a love ballad to my love on a balcony. My love was Jenny Gammon, to whom I found it very easy to sing a love ballad, and I got some thunderous applause after it, to boot, despite the fact I hate singing and really can't do it very well.
I do seem to remember we played it all very over the top, melodramatic, going for the laughs. Looking at the photo now, I wonder how the curls over my forehead were stuck down. But a great costume, I must say.
Cast
| | |
| --- | --- |
| Argan | Wilfrid Taylor |
| Beline, his wife | Jenny Gammon |
| Angelique, his daughter | Maria Whitehouse |
| Louison, his younger daughter | Helen Thomas |
| Beralde, his brother | Patrick Spencer |
| Cleante | Julian Bucknall |
| Diafoirus Senior | John Horsler |
| Thomas Diafoirus | Simon Humphries |
| M. Purgon | Frank Ralfe |
| M. Fleurant | Kevin Edwards |
| Notary | Richard Lynn |
| Toinette | Abigail Topley |
| Shepherdess | Gina Sergione |
| Second Interlude Players: | |
| Master of Ceremonies | Simon Humphries |
| Lucille | Gina Sergione |
| Valère | Kevin Edwards |
| Sabine | Jenny Gammon |
| Sganarelle | Julian Bucknall |
| Gorgibus | Frank Ralfe |
| Gros-René | John Horsler |