Cabaret
published: Sun, 1-Oct-2006 | updated: Tue, 21-Aug-2018
Clifford Bradshaw in Cabaret, book by Joe Masteroff, music by John Kander, lyrics by Fred Ebb, from stories by Christopher Isherwood, for the Dulwich Players at St. Barnabas Hall, Dulwich Village. Directed by Ian Rutter. October 1990.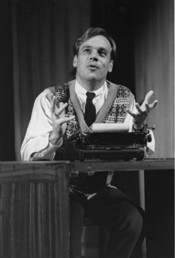 Ah, Cabaret, one of my favorite musicals of all time. I played the straight man, Cliff, the Christopher Isherwood part, and in a way, the narrator.
Two songs. Scary: I'm not a singer. One a duet, no real problem apart from the harmony at the end, and a solo. Oh my god the solo. I'd listen to this song in the car, I'd hum it at work, but still I feel I didn't do it justice. Oh well.
Things I remember about the production? Abigail, who played Sally, insisted that we drank real Prairie Oysters; ye gods. And then: they built stairs across the front of the stage into the auditorium, so that we could use the audience as if they were at the Kit Kat Club and arrive through them and leave through them. The point where Cliff gets thrown out of the Club, just before Sally sings Cabaret, I was beaten up and rolled down the stairs and dragged off. Another one: the Kit Kat girls included my ex-wife and soon-to-be girlfriend (we first went out towards the end of rehearsals). Ay yay yay.
I must also say that the cast were great, just right for the parts. Abigail was perfect for the part as Sally, and Paul amazing as the Emcee. Wilf and Ruth tore your heart apart as the doomed older couple, and Ruth, who played Fraulein Schneider, was Jewish and admitted to us that Tomorrow Belongs To Me made her cry with anger.
But the most important thing about the production was that it instilled in a me a strong desire to direct it one day. I just loved the show, the stories of ordinary people, the societal move to more and more awfulness, the impending doom and loss of innocence.
Cast
| | |
| --- | --- |
| Master of Ceremonies | Paul Sykes |
| Clifford Bradshaw | Julian Bucknall |
| Ernst Ludwig | John Horsler |
| Customs Officer | John Pinnell |
| Fraulein Schneider | Ruth Franklin |
| Herr Schultz | Wilfrid Taylor |
| Fraulein Kost | Jenny Gammon |
| Sally Bowles | Abigail Topley |
| Telephone Girl | Denise Biffen |
| Max | Kevin Edwards |
| Gorilla | Lydia Dickie |
| Kit Kat Girls: | |
| Heidi | Susan Adam |
| Helga | Fiona Boyd |
| Maria | Caroline Griffin |
| Lulu | Martine Kingsley |
| Eva | Joanna Piesse |
| Greta | Dominique Walsh |
| Waiters/Sailors: | |
| Otto | Michael Foster |
| Rudy | Thomas Gillie |
| Karl | Dominic Rutherford |