Breaking Legs
published: Fri, 6-Feb-2004 | updated: Wed, 4-Jan-2017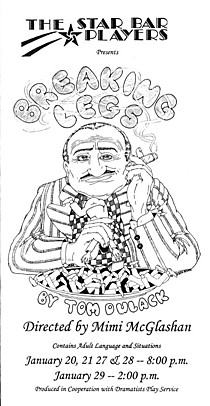 Terrance O'Keefe in Breaking Legs by Tom Dulack for Star Bar Players at The Lon Chaney Theater. Directed by Mimi McGlashan. January 1995.
A fun little show this one. Lots of gags and humor. Gags as in jokes, and also as in retching from eating from the wrong serving bowl during the dinner scene at the end of Act I (to save on money, only part of the food was fresh each performance; in particular the big bowl of spaghetti was, despite being refrigerated every night after the show, starting to walk on its own the last weekend).
Poor Mimi didn't really have a chance directing this one. Practically all of her actors were veterans and were thinking up and doing sight gags or pratfalls (my falling off a stool drunk to Borghi's raised eyebrow was one highlight in Act II) all the way through rehearsals. The whole rehearsal process was a gigantic comedy routine, fun fun fun. She did manage to keep us under enough control though.
It was good to act with these guys too. Everyone knew how to do comic acting: when to be the straight man, when to be the focus of the joke.
On opening night, we had food catered by Mollica's (an excellent Italian deli and restaurant in Colorado Springs) to emphasize the Italian theme. To emphasize the Mafioso theme, the programme was entirely written as if we were cops and criminals ("Julian is here under cover from Scotland Yard's 'Flying Squad'" for example); not entirely successful in my view.
All in all a good giggle.
Cast
| | |
| --- | --- |
| Angie Graziano | Donna Vessey |
| Lou Graziano | Michael Borghi |
| Terrance O'Keefe | Julian Bucknall |
| Tino De Felice | Bob Fernandez |
| Mike Francisco | Keith Smith |
| Frankie Salvucci | Greg Lanning |
Review from the Gazette Telegraph
Farcical `Breaking Legs' holds up, thanks to Star Bars' solid cast

Mark Arnest

Good acting and funny dialogue are enough to overcome an aimless plot in the Star Bar Players' production of "Breaking Legs" at the Lon Chaney Theater.

Tom Dulack's farce is about worlds colliding. Academic milquetoast playwright Terrance O'Keefe looks up an old student, Angie Graziano, in hopes of getting her father to bankroll his new play. Restaurateur Lou Graziano and his fellow investors, Mike Francisco and Tino De Felice, are, mobsters. O'Keefe's play is about murder ("It's strong stuff. Sickening, actually," he tells Angie) but he's not prepared to meet real killers. Further complicating Terrance's life is Angie's determination to marry him.

In the end only Angie is really satisfied: She gets her man. But Lou, Tino and Mike are stuck producing a play they're not crazy about, and Terrance is in bed - literally - with the mob.

But the plot is just the flimsy scaffolding Dulack uses on which to hang his malapropism-stuffed dialogue ("You're not very absorbent," Mike tells Terrance), and his vivid characters give the Star Bar's strong cast something to work with.

In her directorial debut, Mimi McGlashan keeps the action moving and gets a great sense of ensemble out of her cast, especially the three thugs.

Keith Smith shines as Mike Francisco, a stupid but dangerous don who laughs at his own jokes. No comic actor in the Springs has better timing than Smith, who can make a single word - "Terrance" - unforgettable.

Also excellent is Michael Borghi as Lou Graziano, a weary restaurateur who just wants his daughter to marry. Bob Fernandez doesn't have much to do as Tino de Felice, but he does it well, cracking nuts in his fist and fleshing out Mike's vocabulary. Donna Vessey brings a touch of Mae West to her strong characterization of the passionate, mercurial Angie. She and Borghi have great rapport on stage.

Julian Bucknall is appropriately out of place as Terrance O'Keefe, the playwright who feels increasingly pressured and grows increasingly desperate throughout the play. Bucknall is especially good when he acts crazy.

Only Greg Lanning as Frankie Salvucci, a doomed debtor, seems wrong. It's playwright Dulack's fault that the character seems so unnecessary, a walk-on who's looking for trouble and finds it. But all the other Italians in this play seem Italian, while Lanning sounds like Walter Brennan going through withdrawal.

The show's technical work is excellent. Sol Chavez's Italian restaurant set gives depth to the small Lon Chaney stage, and is so complete (right down to the cheesy paintings) that it made me hungry. Eve Di-Salvo's excellent makeup jobs add greatly to the atmosphere while making several characters all but unrecognizable.
(c) Gazette Telegraph 1995