Amadeus
published: Mon, 25-Sep-2006 | updated: Wed, 4-Jan-2017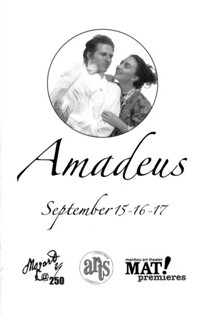 Joseph II, Emperor of Austria, by Peter Shaffer in Amadeus at the Manitou Art Theater (MAT), Manitou Springs. Directed by Eve Tilley. September 2006.
This production was put on for the 250th anniversary of Mozart's birth as a joint production between Mozart@250, the Pikes Peak Arts Council, and Manitou Art Theater. It wasn't a full production of the play, but instead a staged reading performed in modern dress. We used the most recent version of the work (the sixth!): it seems the author, Sir Peter Shaffer, likes to tinker with it. There were three performances only.
It was a great opportunity to play Joseph again. This time, my interpretation of the Emperor was more playful. Maybe it was to do with being in modern dress (especially with no wig this time), but somehow he came out as lighter and more frivolous than before and seemed to get more laughs. Last time, I felt more constrained in the character.
Doing a staged reading was weird. I wear reading glasses these days and furthermore I need good contrast to be able to read. During rehearsals, we had good light and I was fine. For the final rehearsal though, I'd decided to actually highlight my part (I'd missed a couple of cues the previous day) and the lighting designer had set up all the lights, dimmer than what I's been used to. Suddenly, in between the effects of the green highlighting and the dimmer lights, I couldn't read a thing. The next day, I practically learned the entire part (either off-book or extremely familiar with it) so I didn't need to rely on the printed word so much.
We had a string quartet, including half of the now defunct Da Vinci Quartet, and Mark Arnest (who's the Theater Critic at the local paper, The Gazette) played the piano. Lovely.
Cast
| | |
| --- | --- |
| Antonio Salieri | Robert Tiffany |
| Wolfgang Amadeus Mozart | Christopher Keller |
| Constanze Weber | Emily Keller |
| Joseph II | Julian Bucknall |
| Count Johann Kilian von Strak | Michael Campion |
| Count Franz Orsini-Rosenberg | David Plambeck |
| Baron Gottfried van Swieten | David Sckolnik |
| Venticello 2 | Jonathan Sargent |
| Venticello 1 | Tony Babin |
| Salieri's Valet | Keith John Buresh |
| Salieri's Cook | Ethan Eagar |
| Teresa Salieri | Lauren Arnest |
| Katherina Cavalieri | Lauren Ciborowski |
| Voice of Katherina Cavalieri | Judeth Shay Burns |
| Guiseppe Bonno | Cliff McCollough |