Amadeus
published: Fri, 6-Feb-2004 | updated: Wed, 4-Jan-2017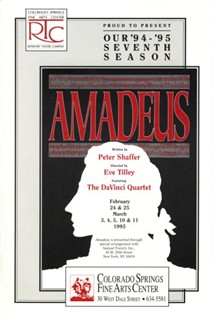 Joseph II, Emperor of Austria, in Amadeus by Peter Shaffer for the Fine Arts Center Repertory Theatre Company at The Fine Arts Center. Directed by Eve Tilley. February/March 1995.
A bit of a departure for the Rep at the FAC, this one. It's a play with incidental (but not gratuitous) music and the Rep were more known for musical theater. Also, I'm sorry to say, the Rep was more known for singers who couldn't act very well, and so we had this opportunity to show off what actors could do.
What a play. Most people know it through the film, but the play, to me seems more of a psychological thriller. The set is spare, especially compared to the movie. And the music is divine. Coming to a performance and getting ready was to be treated to the quartet tuning up and practising Mozart's music.
I played the Emperor as an empty-headed buffoon (well, that's the way it's written), whose favorite phrase is "Well, there it is." We had the whole kit too, wigs and all. Great costume.
Fun fact: in Act II, when Mozart is scared of a mysterious stranger and composes his Requiem, I was the mysterious shadow in a tricorn who was lifting his arms, appearing in silhouette on the projected backdrop. Bwhahaha!
Another fun fact: David Justice decided one Saturday afternoon to take a sleeping pill to get some rest and set his alarm. Needless to say he slept through it, and also through most of the frantic phone calls trying to find out where he was. He just made it at curtain up.
I have to admit the highlights for me were Susannah Weaver and the Da Vinci Quartet.
Cast
| | |
| --- | --- |
| Antonio Salieri | Michael S. Borghi |
| The "Venticelli" | Christian Garcia |
| | David Mason |
| Salieri's Valet | Kenny Brock |
| Salieri's Cook | Douglas Shoback |
| Joseph II, Emperor of Austria | Julian Bucknall |
| Johann Kilian von Strack | Leward Fluty |
| Count Orsini-Rosenberg | David Plambeck |
| Baron van Swieten | Jim Modrall |
| Priest | Steven Pulawa |
| Giuseppe Bonno | David M. Justice |
| Teresa Salieri, wife of Salieri | Lucia Montgomery |
| Katherina Cavalieri, Salieri's pupil | Bessie Frank |
| Soprano voice | Karol Gates |
| Constanze Weber, wife of Mozart | Susannah Weaver |
| Wolfgang Amadeus Mozart | Michael Augenstein |
| Major Domo | Steven Pulawa |
| Citizens of Vienna | Amanda Kerr |
| | Susan Nyberg |
| | Heidi Van Horn |
| Valets | Steven Dreger |
| | Andy Hasenyager |
| | Steven Pulawa |
| | George Willson |
Review from the Gazette Telegraph
'Amadeus' sings with its drama and spectacle

Mark Arnest

Part drama, part fantasy, part history, part parable, part spectacle: Peter Shaffer's "Amadeus," produced by the Colorado Springs Fine Arts Center's Repertory Theatre Company, promises a lot and delivers.

On the surface, "Amadeus" is simply the mad reminiscence of an old lunatic, Antonio Salieri. In one corner we have Salieri, ingratiating but mediocre, adept at handling the political intricacies of the court of Joseph II; in the other corner stands Wolfgang Amadeus Mozart, abrasive, socially inept, but a creative volcano.

The story Salieri tells is about his gradual fall from grace, as jealousy of Mozart's genius led him to destroy the greatest composer of the age.

But this is only part of Shaffer's many-sided parable, which contains one surprise after another - especially if you know "Amadeus" only as a movie.

Director Eve Tilley and her cast capture the play's conceptual richness in this three-hour production.

As Salieri, Michael Borghi's challenge is clear: to capture both Salieri's charm and villainy in a huge role.

Borghi brings out Salieri's geniality and charm marvelously, but doesn't get to the depths of his rottenness.

Michael Augenstein's portrayal of Mozart is energetic and committed. But we don't see the vulnerability that goes hand-in-hand with Mozart's lack of inhibition; he's developed neither restraints nor defenses.

In the end, Augenstein's performance has plenty of heat but not enough warmth.

Upstaging both Borghi and Augenstein is Susannah Weaver as Mozart's young wife Constanze. She sparkles even as she matures, becoming both more complex and more likeable as the play progresses.

The strength of her characterization changes the play from a story of two people into one about three.

The rules of the royal court allowed for little individuality (and besides, Mozart's genius shines more brightly against a drab background), so Shaffer has narrowly defined the supporting roles, which are well-handled in this production.

However, as the "Venticelli" - two characters who represent the winds of rumor and innuendo - Christian Garcia and David Mason - nearly steal the show.

They alone are exempt from the court's stultifying rules, and they make the most of it: The play's energy level soars whenever they're onstage.

The most striking thing about this production is its look. This begins with Sol Chavez's set - a stage onstage - painted by Curt Layman and complemented by backlit effects to give a surreal sense of depth where one striking lighting effect plays after another. Combine this with Tilley's royal court-style blocking (the characters mostly stand in rows and lines), and you have a wonderfully stylized quality - visually the most compelling thing I've seen since last summer's Colorado Opera Festival production of "Turandot."

As a play about Mozart, what's best about "Amadeus" is the way it blows the dust of history from his works. Mozart stands before us as a man, not a "classic," and we see his music as Mozart's contemporaries must have, bewilderingly rich and pulsing with originality.

And it's a fine play in its own right, especially at the end, when what seemed to be an obvious story about an indifferent God is transformed as God's exquisitely ironic punishment of Salieri becomes clear. But it can't entirely sidestep one of the inherent problems of drama about great artists: The drama isn't as good as the art.

What Shaffer has to say about "The Marriage of Figaro" is fascinating, but it doesn't compare with the real "Figaro."

But hey, you can say the same thing about this review. It only hints at the richness of "Amadeus." To know it, see it.
(c) Gazette Telegraph 1995