All in the Timing
published: Fri, 6-Feb-2004 | updated: Wed, 4-Jan-2017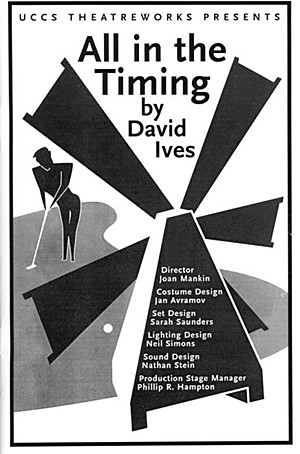 Bill, Al and Sir David Attenborough in All in the Timing by David Ives for Theatreworks at the Dwire Theater. Directed by Joan Mankin. September/October 1998.
We did six playlets: Sure Thing; Words, Words, Words; Variations on the Death of Trotsky; Philip Glass Buys a Loaf of Bread; The Philadelphia; Time Flies. There was an intermission after the third playlet. The director was Joan Mankin, out of San Francisco.
There were six actors performing the 18 roles in these six one-acters: myself, James Childress, Kinch Glisson, Maria Laris, Abbe Mathiessen, Feloniz Salas. I played Bill in Sure Thing, Al in The Philadelphia, and Sir David Attenborough in Time Flies.
Performance dates were in September and October 1998: 11 at 8pm, 12 at 8pm, 13 at 4pm, 17 at 7pm, 18 at 8pm, 19 at 8pm, 20 at 4pm, 24 at 7pm, 25 at 8pm, 26 at 2pm & 8pm, 27 at 4pm, 1 at 7pm, 2 at 8pm, 3 at 2pm & 8pm, 4 at 4pm. 17 performances in all.
When All in the Timing was shown in New York, the New York Times had this to say: "Like sketches for some hilarious, celestially conceived revue. The writing is not only very funny, it has the density of thought and precision of poetry... All in the Timing is by a master of fun. David Ives spins hilarity out of words." And if that didn't get you to come and see it, well I don't know what will.
Fun fact: we performed Time Flies at our wedding. Joan, Feloniz, and James were good sports: they came along, brought the set pieces that we had, and we performed the playlet in front of all our guests. I obviously did David Attenborough in a morning coat, since that was what I was wearing. My undying thanks to them all.
Anyway I really like it when I learn something from a play, and in this case it was an introduction to the music of Philip Glass. Some of his music is quite fascinating and beautiful.
Cast for Sure Thing
| | |
| --- | --- |
| Bill | Julian Bucknall |
| Betty | Abbe Mathiessen |
Cast for Words, Words, Words
| | |
| --- | --- |
| Kafka | Feloniz Salas (11-Sep to 2-Oct) |
| | Amanda Mountain (3-Oct & 4-Oct) |
| Swift | Kinch Glisson |
| Milton | James Childress |
Cast for Variations on the Death of Trotsky
| | |
| --- | --- |
| Mrs. Trotsky | Maria Laris |
| Trotsky | Kinch Glisson |
| Ramon | Abbe Mathiessen |
Cast for Philip Glass Buys a Loaf of Bread
| | |
| --- | --- |
| Woman #1 | Feloniz Salas (11-Sep to 2-Oct) |
| | Amanda Mountain (3-Oct & 4-Oct) |
| Woman #2 | Abbe Mathiessen |
| Philip Glass | Kinch Glisson |
| Baker | Maria Laris |
Cast for The Philadelphia
| | |
| --- | --- |
| Mark | James Childress |
| Waitress | Abbe Mathiessen |
| Al | Julian Bucknall |
Cast for Time Flies
| | |
| --- | --- |
| Horace | James Childress |
| May | Feloniz Salas (11-Sep to 2-Oct) |
| | Amanda Mountain (3-Oct & 4-Oct) |
| David Attenborough | Julian Bucknall |
Review from the Colorado Springs Independent:
All in the Timing: So Absurd
By Tom Vasich

Among contemporary American playwrights, Davis Ives remains something of an enigma. He refuses to give interviews and never explains what his slapstick/absurdist fare might actually mean. And, perhaps, there's a good reason for this.

Watching Theatreworks' production of Ives' popular All in the Timing, it became clear that in Ives' world, the absurd is reality. And the more absurd a situation becomes, the closer it gets to revealing a universal truth.

That may be the gist of All in the Timing, but its presentation is nothing so heavy. Whether skipping from Marx Brothers slapstick to cartoonish Gary Larson humor, Ives refuses to let the message get in the way of a laugh.

And there are laughs aplenty in this play. There's nothing connecting the six vignettes, which range from test monkeys addressing literature and captivity to Leon Trotsky roaming around his desk and pondering why a mountain climber's ax is lodged in his head.

While the common theme is fate and mortality, the six actors, who performed multiple roles, relished the humor in Ives' writing. It's been a long time since I've seen an ensemble enjoy themselves so much on stage. It seemed as if the audience were privy to the fun and creative world these six were creating.

The actors' timing (that's an important word for this play, in case you haven't guessed) was impeccable. In the first vignette, Sure Thing, Julian Bucknall and Abby Mathiessen perfectly represent the frantic hidden conversation between two people meeting for the first time. Later, in Philip Glass Buys a Loaf of Bread, Mathiessen, Feloniz Salas, Kinch Glisson, and Maria Laris interpret the rapid-fire cadence of a Philip Glass song through words. It's a brilliant bit of writing, and the four perform it flawlessly.

And it wouldn't surprise me if Ives is a fan of Gary Larson's The Far Side. A vignette featuring chimps and another with mayflies both contemplated their respective species' [mortality?] when faced with the harsh realities of their lives. Their observations would fit easily into Larson's popular cartoon strip.

What's fascinating about All in the Timing is Ives' understanding of his audience and his time allowance. This is a short two hour play broken up into six sections. Nothing is slow-paced or too demanding; even the most casual observer will have a good time. Ives achieves this by layering deep meaning between the jokes. This production succeeds, because the actors care enough to get that meaning across.
(c) Colorado Springs Independent, 1998
Review from the Gazette:
Gags, gravity both done well in 'Timing'
By Mark Arnest/The Gazette

If you didn't much care for the movie "Titanic," then you won't want to miss "All in the Timing," the delightful comedy by David Ives being produced by CU-The Springs' Theatreworks. It's the anti-"Titanic": nimble, clever, small-scale, low-tech, as much a creature of an intimate theater as James Cameron's behemoth is conceived for the big screen.

In fact, this set of six tiny sketches epitomizes the virtue of small size. "What makes the theater so great," says Ives in Theatreworks' newsletter, "is that there's no money in it." Ives isn't entirely joking. Not having to put 100 million butts in the seats just to break even, Ives has a flexibility that more commercial entertainment can't match, going places and taking risks that no sane commercial producer would dare.

The heart of "All in the Timing" is the unexpected twist. It starts with "Sure Thing," in which Bill (Julian Bucknall) and Betty (Abbe Mathiessen) try to hit it off in a cafe. Each time one of them says the wrong thing, a bell rings - "I don't get out much, since my nervous breakdown," says Bill (ding) - and they begin again from the point at which they went off course.

"Words, Words, Words" gives a new spin on the hypothesis that monkeys working at random might be able to write "Hamlet." "I can't work under these conditions," screams one of these gifted chimps, as another picks lice out of his fur. "No wonder I'm producing garbage!"

"Variations on the Death of Trotsky" features Kinch Glisson as the Russian revolutionary - with the handle of a mountain climber's axe sticking out of his head. The breathtakingly virtuosic "Philip Glass Buys a Loaf of Bread" is put together like a piece by the notoriously repetitive minimalist composer, with Feloniz Salas, James Childress, Maria Laris, Mathiessen and Glisson tossing around and developing tiny fragments of a few sentences.

"The Philadelphia" is about mental places, as Mark (Childress) finds himself stuck in a "Philadelphia" - a nether world in which his friend Al (Bucknall) says, "no matter what you want, they don't have it." Meanwhile, Al is in a "Los Angeles," a world in which nothing can go wrong, even though his wife has left him and he's been fired. "Time Flies" features Childress and Salas as a pair of mayflies mortified to learn that they live for only a single day.

"All in the Timing" is silly, but it's also unexpectedly poignant. Trotsky muses over all the years he's lived through August 21, which turns out to be the day of his death - "like a man walking over his own grave." And while mayflies may seem trivial to us, the difference between a day and 80 years is, after all, merely one of degree. This shadow elevates "All in the Timing" above poke-in-the-eye slapstick.

Director Joan Mankin has prepared her cast well. Bucknall and Mathiessen aren't just negotiating a clever, difficult script in "Sure Thing": They make you want to see them get together. The scene of Childress ordering from waitress Mathiessen in "The Philadelphia" - asking, for instance, for the New York Daily News in order to get the Times - was wonderfully timed.

Sarah Saunders' set is simple, with little besides a rotating disk and a couple of tables - though the chimpanzees appreciated the tire swing. Jan Avramov's costumes complement the silliness with touches such as Philip Glass' bubblewrap cap.

"All in the Timing" isn't for everyone. It's an urban, literate play; Ives wants you to know who Philip Glass is, or recognize Milton, or at least know the difference between early Woody Allen and late, and it's crammed with wonderful throwaway lines such as Al's "What's your soup du jour today?" But when gags come as quickly as they do here, you don't mind missing a few.
(C) The Colorado Springs Gazette, 1998