My other writing home
published: Thu, 2-Dec-2004 | updated: Wed, 2-Aug-2006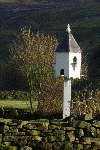 For completeness' sake, here is a list of my November articles on CodeFez.
The train is starting to leave the station (4-Nov-2004). One of the most important things to come out of Microsoft in the last couple of years tends to be played down in the press, and sniped at by technology pundits. From my viewpoint the industry's tendency to ignore this technology is simply bizarre. The thing I'm talking about is the Tablet PC. Before you pooh-pooh my assertion, stay a while.
The Need for Bad Software (11-Nov-2004). Bad software: we know what it is; we know how to write it, we know to avoid it like the plague. But, my thesis is that it's good for us.
SuperPower Security Rights: Be a Superhero (18-Nov-2004). Having superpowers is great if you want to feel invincible, but in accepting them we have a responsibility to use them for the good of society as a whole and not misuse them.
Retail appliances (26-Nov-2004). I had occasion after the turkey dinner yesterday to muse a little on computers and software in the retail channel. My brother-in-law-to-be was waxing lyrical about the TiVo he'd just bought, and rather than restrict my thoughts to just that device, I started thinking about the retail channel as a whole for these computer and software driven one-use devices.