The Audi Essex
published: Sat, 21-Apr-2007 | updated: Sun, 22-Apr-2007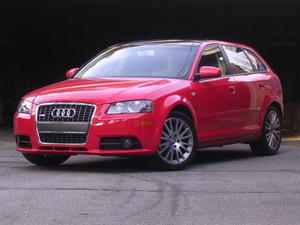 There I was in my local Starbucks, pouring some half-and-half in my coffee, when a scout leader, a man in his late forties, came up to me and said, "Is that an Essex?"
I was taken aback for a moment. What did he mean? An Essex? I'd just been chatting jovially with the baristas behind the counter. Had he overheard me and was therefore commenting my British accent, making a Higginsian distinction? I looked at him, wondering if perhaps I knew him from some where, but, no, he was unknown to me: a short, slightly unprepossessing man, dressed in a khaki scout leader's uniform, wearing a smile. I remembered glancing at him seated at a table when I came in.
"Sorry?" I said.
"Is it an Essex?" he repeated.
I was floored. I hadn't a clue what he was talking about. And yet still I wondered if my accent had become more East than West London. He pointed out the window.
Suddenly it hit me. He was talking about my new car, an Audi, and asking whether it was an S6.
"Oh, no. Nothing so big. It's an S3," I said. Or to be really precise, an Audi A3 2.0T with the S-line sport package. We chatted a little while longer, me about my new car choices, him looking wistful in that they didn't involve worrying about kids and how to transport them. Finally he had to go: there was a scout charity thing happening a couple of shops down in an unoccupied store.
I took my coffee out to my Audi Essex and drove home.
(The photograph of an Audi A3 2.0T S-line © Aaron Gold)